Jenn Freeman | Po'Chop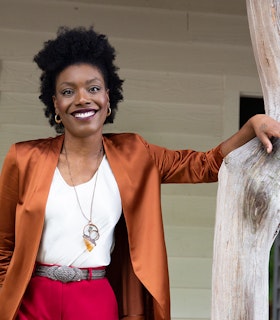 Receiving this award allowed me to spend the year honoring my endless grief with rest and grace. It afforded me the time and capacity to step away from the pressures of creating to allow myself time to follow my body's needs, to listen.
- Jenn Freeman | Po'Chop, December 15, 2021
Artist Statement
We are two, Jenn Freeman and Po'Chop, and we create movement-based performances. Our work is transgressive and pulls from drag and burlesque, modern and praise dance, and spoken word and hip hop. Our work is a reimagining of Lord as (Audre) Lorde where worship is a space where the erotic is regarded as the highest knowledge and ancestors are whispered into walls made of brown bags. Our healing is urgent. Through edifying the legacies of Black women and femmes we heal from the lessons we learned between pews. We came of age in Missouri's bootheel as Black and Queer. Our work is both holy and hilarious. Crossing media lines from live performance to digital, we are a hybrid fueled by meme culture, Black history, and rural Baptist aesthetics. We revel in rituals that are collaborative and participatory. We use objects, sounds, and movement to encourage the recalling of memories and emotions. Tugging audiences into imagined worlds, our art creates space for folks like public housing activist Beauty Turner or icon Mary J. Blige or often overlooked pioneer and faith healer Elder Lucy Smith to be remembered and uplifted. We, Jenn Freeman and Po'Chop, manifest new worlds outta breath and imagination.
- December 2020
Biography
Chicago-based burlesque artist Jenn Freeman, also known as Po'Chop, uses elements of dance, storytelling, and striptease to create performances and inspire students and collaborators across the country.
LITANY (2020) is a five-part dance film created in collaboration with Jordan Phelps and titled after Audre Lorde's poem "A Litany for Survival." It is a collage that uses photography, video, animation, drawings, and other materials to create new worlds full of rumbling anger and playful humor and expel antiquated notions of blackness, queer identity, spirituality, grace, rage, and healing. LITANY was presented virtually by the Rebuild Foundation in Chicago, IL during Freeman's residency there.
Their work The People's Church of the G.H.E.T.T.O (Greatest History Ever Told To Our People) (2019) combines dance, ritual, poetry, and fantasy. It re-imagines a worship service rooted in the life and work of Audre Lorde and is dedicated to the education and edification of Black women. It was performed at Blanc Gallery in Chicago, IL. Dynamite (2017) is a performance presented at Links Hall in Chicago, IL that reimagines tradition through the exploration of memory and masculinity.
Freeman is featured in performances including Jamila Woods Legacy! Legacy! Unfolded at The Geraghty, Chicago, IL (2019) and Thank the Lorde! at Steppenwolf Theatre, Chicago, IL (2018). They have also performed at the Brooklyn Museum, Brooklyn, NY in Brown Girls Burlesque's Bodyspeak (2015); on Season 2 of Netflix's Easy (2017); and in music videos for songs by Jamila Woods including "GIOVANNI"(2018) and "Holy" (2017) and Mykele Deville's song "Type Love" (2018).
They were selected to be a Rebuild Foundation Dancer-in-Residence (2020); an Urban Bush Women Choreographic Center Initiative Fellow (2020); a Chicago Dancemakers Forum Lab Artist (2018); and a 3Arts Make A Wave Artist (2017).
Freeman attended Columbia College Chicago. They are a board member and cast member for Jeezy's Juke Joint, an all-Black burlesque revue.