Jennie C. Jones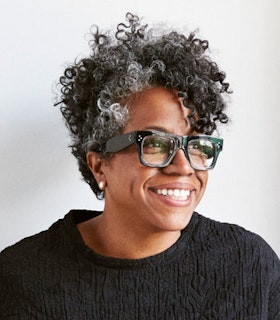 The award came at a pivotal point, arriving just weeks after the sale of the large industrial complex where my studio was located for almost 5 years... The support from FCA ended up being a true-life saver. I was able to obtain a temporary storage unit, packing materials, movers and art handlers to assist in relocating as well as a deposit on the new workspace... I've begun looking at live work possibilities upstate and am hatching a long-term transition plan over the coming year (or 2). It's all been overwhelming and would have been more so without the financial cushion the FCA award provided. The remainder of the funds along with recent sales will be the seed money towards a down payment on a more long term, stable place to create.
- Jennie C. Jones, December 2, 2016
Artist Statement
My practice mines the territory of Modernism—abstraction and minimalism, experimental jazz, and seminal political and social shifts—to reveal the complex and often parallel legacies of the mid-twentieth-century's social, cultural, and political experimentations. My work brings to light the unlikely alliances that emerged between the visual arts and the imprint of jazz, highlighting the way they became and continue to exist as tangible markers of social evolution and political strivings.
- December 2015
Biography
Jennie C. Jones is a conceptual artist who creates audio installations that explore sound and music, particularly experimental jazz, through the lens of minimalism. Her practice encompasses painting, sculpture, and sound to open discussions of the perception of sound within the field of visual arts.
After receiving her 2016 Robert Rauschenberg Award, Jones mounted Amplitude (2016), a solo exhibition of new work, at Sikkema, Jenkins & Co, New York. Her previous solo exhibitions include Compilation, a ten-year survey exhibition of her work curated by Valerie Cassel Oliver at the Contemporary Arts Museum Houston, Houston (2016); RED, BIRD, BLUE, at Atlanta Contemporary Art Center, Atlanta (2009); Counterpoint, at Yerba Buena Center for the Arts, San Francisco (2011); Absorb/Defuse, at The Kitchen, New York (2013); and Directions: Jennie C. Jones: Higher Resonance, at the Hirshhorn Museum and Sculpture Garden, Washington, D.C. (2013).
Jones's work has been included in the group exhibitions Silence, at The Menil Collection, Houston (2012), also shown at Berkeley Art Museum and Pacific Film Archive, University of California, Berkeley; Outside the Lines; Black in the Abstract, Part 2: Hard Edges/Soft Curves, at Contemporary Arts Museum Houston, Houston (2014); and The Freedom Principle: Experiments in Art and Music, 1965 to Now, at Museum of Contemporary Art, Chicago (2015), also shown at Institute of Contemporary Art at the University of Pennsylvania, Philadelphia. Jones has works in the collections of Deutsche Bank, the Los Angeles County Museum of Art, The Studio Museum in Harlem, The Museum of Modern Art, and the Hirshhorn Museum and Sculpture Garden, among others.
Jones is the recipient of The William H. Johnson Prize (2008), the Studio Museum in Harlem's Joyce Alexander Wein Artist Prize (2012), a Joan Mitchell Foundation Grant (2013), and a Robert Rauschenberg Foundation Residency (2014).
Jones attended Rutgers University, Mason Gross School of the Arts where she received her M.F.A. in 1996. Prior to that she attended The School of the Art Institute of Chicago, receiving a B.F.A. in 1991, with Fellowship. Jones was a Visiting Artist on the M.F.A. Faculty at Montclair State University from 2012-2013 and a Resident Faculty Artist at the Skowhegan School of Painting and Sculpture in 2014. She is a Visiting Critic at Yale University.