Jennifer Lacey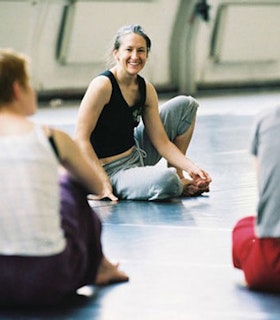 It is no exaggeration to say that the grant I received from the FCPA in the fall of 1999 changed my career... This grant arrived at a point where I was unsure that I was capable of creating the conditions necessary to go on working and to provide my work with the space needed to develop. I was quite worn out... [The grant] enabled me to collaborate with good fortune and move my life and my work in the direction that they wanted to go.
- Jennifer Lacey, May 24, 2001
Artist Statement
My work is based in an enduring curiosity regarding the nature of perception and the possibilities within the form of dance for complex thought. I believe that the body has access to a way of conceptualizing that differs from the parts of ourselves that construct and process verbal language. This modality of thought is concerned not only with instinct and emotion, but also with ontological queries, with theorizing. Through the body there are opportunities to consider and present ideas with a respect to their complexity and seeming contradictions or transgressions. My pieces reside between these apparent contradictions. I try not to resolve issues but rather present them in their integral knottiness, to show the gloss of the tangle.
The personality of the work springs directly from the process of investigating the relationship between a presented, constructed image and the corporal experience of the performers, as well as from the spaces created by collaboration with artists from other disciplines. I enjoy locating processes that summon up something that is simple and uncompromised yet peculiar enough to attract attention to the manner in which we observe a performance. I like my pieces to be a space where these elements of ideas can resonate to a sound greater than the parts to create strange, surprising beauty.
- 2000
Biography
Jennifer Lacey is a choreographer. During the 1990s she was a member of the Randy Warshaw Dance Company and a dancer with John Jasperse, Yvonne Meir, Ellen Fisher, DD Dorvillier, and Jennifer Monson, among others. In 2000, she co-founded the company Megagloss with Carole Bodin.
Since receiving her 1999 Grants to Artists award, Lacey has frequently collaborated with visual artist Nadia Lauro. Together they have created works including This is an Epic (2003), Mhmmmmm (2005), and Les Assistantes (2008). Their FCPA-supported work $Shot (2000), with music composed by Zeena Parkins, premiered at The Kitchen. $Shot won a New York Dance and Performance "Bessie" Award for set design by Lauro. Lacey's Grants to Artists award also supported the development and production of Chateaux of France, which premiered at Biennale de Lyon in 2001.
Lacey's works produced subsequent to her Grants to Artists award include the solo pieces Two Discussions of an Anterior Event (2004), Tall (2007), and Ouch (2007). Lacey also created I Heart Lygia Clark (2011) for one audience member and three dance therapists. Her collaboration with Wally Cardona, Tool is Loot (2011), was created after a series of performances with dramaturgs who had no experience in dance. In 2014, she premiered The Set Up: Heni Winahyuningsih, part of a multi-year project initiated by Wally Cardona and made in dialogue with dance masters from around the world.
Lacey's work has been presented in New York and internationally at venues including Performance Space 122, The Kitchen, Movement Research at Judson Church, Danspace Project, ImPulsTanz, Tate Modern, the Biennale de Lyon, Tanzquartier Vienna, Centre Pompidou, and Kyoto Art Center.
Subsequent to her 1999 FCPA grant, Lacey was an artist in residence at the Laboratoires d'Aubervilliers in Paris in 2000, and she was the recipient of a 2014 Doris Duke Impact Award. She has developed several professional programs such as the Essaies programme at the Centre National de Danse Contemporaine in Angers, France and Teaching the Teachers at ImPulsTanz, a European Union-funded laboratory for artists who teach.