Jeph Jerman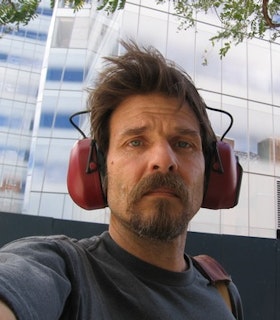 [With the grant] I... partially financed the recording of an album... recorded and released a lathe-cut record in a small edition and a number of self-made CD-Rs and cassettes... purchased some recording equipment (analog tape recorders)... acquired a large cache of research materials, both written and recorded, to help with future works including a possible book I've been thinking about for many years... Most of the above mentioned would not have been possible had I not received your grant...
- Jeph Jerman, December 3, 2014
Artist Statement
My recorded work over the past 35-odd years can be viewed as the residue of a life spent learning to listen, and offering chances for others to do the same. Toward that end I have: played music both composed and improvised in a variety of settings alone and with others, spent much time wandering in the desert making recordings of the natural world and it's interaction with human structures, composed "large scale" works to be played by ensembles utilizing natural objects (stones, feathers, shells) or cooking pot lids, and constructed crude sound-making devices which play on their own. Most recently I have been working with sounds derived from mistakes or malfunctions, focusing on the discarded/unwanted/unused bits of past work.
- December 2013
Biography
Jeph Jerman is a musician who began his musical career drumming and playing in bar bands. In the 1980s, he became aware of other sonic possibilities for his drum kit and started learning to improvise and record his own music. During this time Jerman was a frequent collaborator with other musicians who were also exploring improvisational techniques. In the mid-1980s, Jerman founded a cassette label for the distribution of music by himself and friends. The label released over 50 cassettes, several LPs, and a short-lived magazine.
After relocating from Colorado to Seattle, Jerman continued playing with local groups of improvisers and began giving solo performances where he improvised with mostly natural found objects, a practice he continues today. He founded the first animist orchestra dedicated to making larger scale works using natural object play. In 1999, Jerman moved to Cottonwood, AZ. He continues to investigate sound and recording in many forms including field recordings, the building of crude sound making devices, and the effects of age and other damage to analog tape. Jerman's 2014 Grants to Artists award funded recording and touring with Tim Barnes. Jerman continues to collaborate with Dave Knott in a band collectively known as The Yes, Well, and with Tim Barnes, with whom collaborated on an FCA-supported record released in 2015 (Erstwhile Records.) Other CDs and works are available on Anomalous Records, Semperflorens, and Trait Media Works.