Jim O'Rourke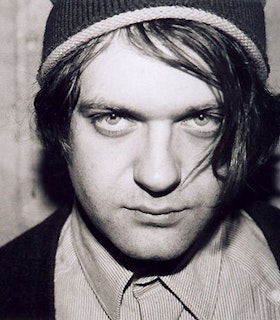 The grant gave me time to work on my own music in an unhurried pace, for the first time I've had the time to work on something without a concern for how 'practical' it was, which is an incredible feeling, of which I am very, very grateful…
- Jim O'Rourke, April 29, 2003
Artist Statement
Most people who do observe what I do seem to be confused by what they see as "genre jumping." I don't get it. The genre isn't the effort; the use of the genre can be part of the effort, but it is the desire to know, understand, or misunderstand, if you're so inclined, why it is what you think it is. To me, it's all work, all an effort to learn and then issue a field report on your findings. Engineering feeds into writing, arranging feeds into editing, film lighting feeds into mic placement, and so on.
- 2002
Biography
Jim O'Rourke is a post-classical composer, guitarist, producer, and filmmaker. He most often plays prepared guitar in improvisational ensembles, but has also released solo material. O'Rourke facilitated early exchange between American and European experimental avant-garde music. His work spans rock, jazz, ambient, and electroacoustic music. In 1993, O'Rourke co-founded the experimental rock group Gastr del Sol with David Grubbs. In the same year, he formed the avant-rock group Brise-Glace with Darin Gray and Dylan Posa. Throughout the 1990s, O'Rourke was a member of the band Illusion of Safety and from 1999 to 2005 he performed and recorded as a member of Sonic Youth.
O'Rourke's solo albums include Terminal Pharmacy (1995), Bad Timing (1997), and Eureka (1999). In 2001, O'Rourke released I'm Happy, and I'm Singing, and a 1, 2, 3, 4, a collection of three tracks that he performed on his laptop computer in New York, Osaka, and Tokyo. His 2001 Grants to Artists award supported work on a series of "re-edited" films including Last Year at Marienbad and the completion of up <---> out, a three-minute section of Brian DePalma's Blow Out, to simulate the structure of Michael Snow's <----> (Back and Forth).
Since receiving his FCPA grant, O'Rourke released the album Insignificance in 2001, featuring appearances by guitarist Jeff Tweedy and drummer Glenn Kotche of Wilco. The trio collaborated again on the side-project Loose Fur, releasing a self-titled album in 2003 and Born Again in the U.S.A. in 2006. His solo albums include The Visitor (2009), Plastic Palace People, Volume 1 and 2 (2011), and Simple Songs (2015). O'Rourke's film Not Yet (2003) was screened at the Whitney Biennial and the Rotterdam Film Festival. He has collaborated with improvisational musicians such as Derek Bailey, Henry Kaiser, Eddie Prévost, Keith Rowe, KK Null, David Jackman, and the German krautrock band Faust.
O'Rourke has been commissioned to create pieces for the Kronos Quartet and the Rova Saxophone Quartet. He graduated from DePaul University in 1980 with a B.A. in Music.