Jimmie Durham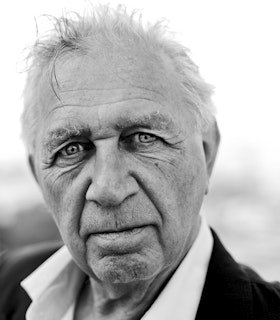 Just as I was awarded this grant I began to work on a major exhibit of new sculptures of which I had been imagining for many years, of the large animals of Europe... The same time this was happening I had a retrospective show in the U.S., beginning at the Hammer Museum in Los Angeles, traveling to the Walker Art Center in Minneapolis and the Whitney Museum of American Art in New York City and then on to the Remai Modern Art Gallery in Canada. I made new works for the part in New York, using funds from the grant to purchase material in Germany. Perhaps the most important area for me is the moral support which accompanied the much-needed money. I had not shown in the U.S. for many years and was nervous about the idea. I will take, then, the opportunity to express my heartfelt gratitude for this grant and what it has afforded me.
- Jimmie Durham, December 15, 2017
Artist Statement
Art for me is an intellectual process but not in the sense of having a linguistic meaning.
The starting point of my work is almost always material. That can be an object, bought, found, or given by somebody; material by itself such as wood, glass, stone, plastic; or something else, even just a word. I am interested in it because of its specificity and specific materiality. I enjoy playing with materials, bringing them together so that they create something new. It very often is to celebrate the materials, to make a (physical) poem in their honor, but often, dismantling the materials from their normal use is also critical to the ideas that are imposed on them depending on the specific societies.
Biography
Jimmie Durham was an artist, poet, writer, and activist whose work deconstructs the stereotypes and prejudices on which Western culture is based. Durham's work analyzes the relationships between history and environment, architecture and monumentality, and critical attitudes towards political structures of power and narratives of national identity. In his sculptures, drawings, texts, and film and video works, Durham described behaviors and norms of coexistence in different social and cultural formations.
Durham's career as both a sculptor and a political activist began in the early 1960s, exploring the relationships between people and the architectures, both physical and societal, that surround us. He worked in a range of traditional and unique media, resulting in both small sculptures and large-scale installations. In the 1970s Durham co-founded the International Indian Treaty Council at the United Nations, where his work led to the Declaration on the Rights of Indigenous Peoples.
Durham's 2017 Grants to Artists award supported the fabrication of new sculptures that were exhibited at the Migros Museum of Contemporary Art in Zurich, Switzerland. Additionally in 2017, Jimmie Durham: At the Center of the World, a major retrospective of Durham's work, was presented at the Hammer Museum, Los Angeles; Walker Art Center, Minneapolis; and the Whitney Museum of American Art, New York.
Durham's work has been widely exhibited, with shows dedicated to his work at the Museum of Modern Art in Antwerp, Antwerp, Belgium (2012); Museo d'Arte Contemporanea di Roma, Rome, Italy (2012-13); Palazzo Reale, Milan, Italy (2012-13); Fondazione Querini Stampalia, Venice, Italy (2015); Serpentine Gallery, London, United Kingdom (2015); and the Hammer Museum, Los Angeles (2017). Durham's work has also been exhibited at documenta 13, Kassel, Germany (2012), the 55th Venice Biennale, Venice, Italy (2013), the 13th Istanbul Biennial, Istanbul, Turkey (2013), and the Whitney Biennial, New York (2014).
Durham was an Artist-in-Residence at DAAD Berlin (1998), and was awarded the Kaiserring award from the Mönchehaus Museum in Goslar, Germany (2016). He was an adjunct professor at Malmö Art Academy (1997-2006), and a visiting professor at Università Iuav in Venice, Italy (2007).