Jin Hi Kim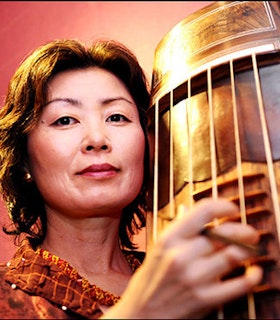 The year of 2002 has been very productive for my works. The award from FCPA has been so crucial to my creative works.
- Jin Hi Kim, March 3, 2003
Artist Statement
I have developed a series of crosscultural compositions for chamber and orchestra using my Living Tones philosophy—the timbral persona of each tone generated is treated with an abiding respect, as its philosophical mandate from Buddhism, a reverence for the "life" of a tone, the color and nuance granted each articulation from Korean Shamanism.
My focus was on creating innovative works for komungo combining Asian ancient mythology and Western advanced interactive technology. I co-designed the world's only electric komungo with Midi computer system using MAX/MSP.I created Touching The Moons (2000), a multi-media lunar ritual based on ancient mythology of the moon in Asia.In this work traditional instruments of komungo, Indian tabla, Korean kagok singer, and Indian kathak dancer were processed live with computer-controlled MIDI systems and sensors that resulted in an interactive digital animation. My ongoing project Digital Buddha (2007-2014) is a multimedia presentation with komungo/electric komungo and video. The work begins with a contemplative hypnotic video mandala and the ancient 4th century acoustic komungo that is rooted in Buddhist meditation. Then it gradually moves into a video mix with extraordinary juxtapositions of fast-cut swirling images of a deconstructed electric komungo that becomes a reconfigured live performance through contemporary digital technology. Currently my interest is in developing komungobot (robot).
However, I am in a new phase of my artistic path. As I look back at my history I realize that my 30 years of professional experience as a composer and komungo performer led me to rethink the fundamental question of the function of music in society. I feel a strong need to crystallize the composing with my deeper awareness of the spiritual aspects of music that revitalizes and restores my creativity and the community at large. I want to explore arts that are deeply derived from spiritual practice for the society.
- 2014
Biography
Jin Hi Kim is a komungo musician and composer. Kim's komungo (a fourth century Korean fretted board zith) solo works represent an evolution of the instrument into the twenty-first century and its introduction into the Western contemporary music scene through her compositions for chamber ensemble, orchestra, soundtrack, cross-cultural ensemble, multi-media, and avant-garde jazz improvisations. Her work explores the Korean concept of shigumse, an ornamental technique used in traditional vocal and instrumental music that she uses in her own notational method. Kim co-designed the world's only electric komungo and creates live interactive performance pieces with a MIDI computer system. The komungo sound is processed in real-time through a computer program, Max/MSP, that is triggered by a MIDI foot pedal. Kim is also developing a robot, "komungobot," with sound designer Alex Noyes.
With support from her 2001 Grants to Artists award, Kim composed Eternal Rock II, for Korean barrel drum and set orchestra, and released the albums Komungo (2001) and Pulses (2010).
Kim has performed her own compositions and improvisations as a komungo soloist at Carnegie Hall, Lincoln Center, the John F. Kennedy Center for the Performing Arts, Smithsonian Freer Gallery of Art, Asia Society, Royal Festival Hall in London, Haus der Kulturen der Welt in Berlin, the Festival of Asian Art in Hong Kong, and many jazz festivals throughout the United States, Europe, Canada, South America, Russia, Asia, New Zealand, and Australia. Her compositions have been performed by the Kronos Quartet, The Chamber Music Society of Lincoln Center, the American Composers Orchestra, the Xenakis Ensemble, and the Boston Modern Orchestra Project, among others. Kim has been featured on Public Radio International's The World, Voice of America, and the British Broadcasting Corporation. Kim performed at the 2013 Venice Biennale for Joana Vasconcelos' Floating Pavilion opening exhibition and on Lunar New Year's Day in 2014, Kim performed her Digital Buddha at the Metropolitan Museum of Art, in conjunction with the exhibition Silla: Korea's Golden Kingdom.
Since receiving her 2001 FCPA grant, Kim has been a Music Alive Composer-in-Residence with the New Haven Symphony Orchestra (2009-2011), a John Simon Guggenheim Memorial Foundation Fellow in Music Composition (2010), a McKnight Visiting Composer with the American Composers Forum (2013), and an Asian Cultural Council Mandarin Oriental Fellow (2014). She is also the recipient of a 2014 Arts Catalyze Placemaking grant from Connecticut Office of the Arts.
Kim received an M.F.A. from Mills College in 1985. In 2007, her autobiography Komungo Tango, an account of 25 years of creative collaborations with musicians around the world, was published in Seoul, South Korea.