Joan Jonas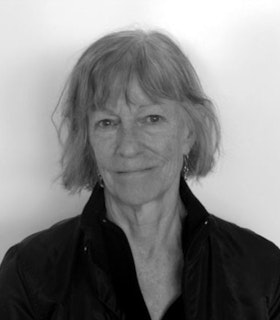 Biography
Joan Jonas is a multimedia artist whose work encompasses video, performance, installation, sound, text, and drawing. Trained in art history and sculpture, Jonas later became a central figure in the performance art movement of the late 1960s. Her experiments and productions in the late 1960s and early 1970s continue to be crucial to the development of many contemporary art genres, from performance and video, to conceptual art and theater. Jonas often engages language and explores the relationship between art and narrative forms.
Jonas's work has been the subject of retrospectives at the Queens Museum of Art, Staatsgalerie in Stuttgart, Germany, and Van Abbenmuseum in Eindhoven, Netherlands. Jonas was selected to represent the United States at the 56th Venice Biennale in 2015. HangarBicocca in Milan presented a survey of Jonas's work, Light Time Tales, in early 2014. The gallery is a former industrial space that presented ten installations and ten single-channel videos from throughout her career.
Subsequent to receiving her 1995 Grants to Artists award, Jonas was the recipient of an Anonymous Was A Woman Award (1998), a DAAD Berlin Artist-in-Residence, and a John Simon Guggenheim Memorial Foundation Fellowship (2009). Previous to her 1995 FCPA recognition, Jonas was the recipient of a National Endowment for the Arts Grant (1974), an American Film Institute "Maya Deren" Award, and a Rockefeller Foundation Grant (1990).
Jonas received a B.A. in Art History from Mount Holyoke College in 1958, studied sculpture at the School of the Museum of Fine Arts, Boston, and received an M.F.A. in Sculpture from Columbia University in 1965. Jonas has taught at the Massachusetts Institute of Technology since 1998, where she is Professor Emerita in the Program in Art, Culture, and Technology.