Elevator Repair Service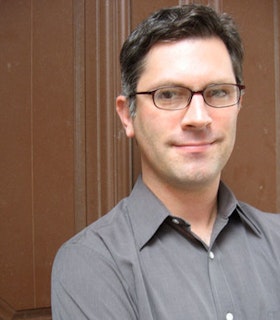 The grant came at an unexpectedly perfect time for us. The funding helped us devote more rehearsal time to our newest piece, increase John's and the performers' pay, bring designers into the process earlier than usual, and offset a potential cash flow crisis... The grant meant that both John and the company could do more than simply get started on a new piece. It meant we could spend more time more deeply engaged in the developmental process, and by doing that we were able to invest the piece with a renewed sense of rigor and adventure and mature as an ensemble.
- Elevator Repair Service, January 2010
Artist Statement
Elevator Repair Service (ERS) creates original theater productions through a time-intensive collaboration among a tightly-knit group of actors, designers, and director John Collins. The ensemble's ongoing creative project is to translate text and media from non-dramatic sources into performances for intimate physical spaces. Since 1991, the company has made work from biographical and historical research and, more recently, from unabridged passages from literature. The ensemble's tools for this process include a combination of conventional and radically unconventional performance styles, choreography, and experimental design. ERS is guided by a belief in the uniqueness of theater as a medium. In our work we look for innovative ways to exploit the unpredictable and revelatory experience of live performance.
- December 2008
Biography
Founded in 1991 by Artistic Director John Collins, Elevator Repair Service creates original theater works with an ongoing ensemble. ERS's theater pieces are built around a broad range of subject matter and literary forms; they combine elements of slapstick comedy, hi-tech and low-tech design, both literary and found text, and the group's own style of choreography. ERS creates its performances through extended periods of collaboration. A typical development cycle includes four to six intensive work periods within a two-year period, which conclude with work-in-progress showings. Time off between development is filled with touring and presentations of finished works. Following completion, the piece is presented in New York City for an extended run and is often presented on tour domestically and internationally.
ERS's work has been presented throughout the United States, Europe, and Australia. The company enjoys ongoing partnerships with both New York Theatre Workshop (NYTW) and The Public Theater. Prior to receiving their Grants to Artists award, ERS presented Gatz (2006) at The Public and The Sound and the Fury (2008) at NYTW. The company's 2009 FCA grant supported their production The Select (The Sun Also Rises) (2010) at NYTW. Since receiving their 2009 Grants to Artists award, ERS has presented Arguendo (2013) and The Sound and the Fury (2015) at The Public. Their other presenting partners have since included REDCAT (2008-2009, 2013-2013, 2014-2015), The American Repertory Theater (2009-10), The LIFT Festival in London at The Noel Coward Theatre (2011-2012), and The McCarter Theater in Princeton, New Jersey (2011-2012, 2012-2013), among others.
ERS's Artistic Director John Collins has directed or co-directed all of the company's productions. His writing about theater and sound design appear in the books Theatre Noise: The Sound of Performance (2011) and Encountering Ensemble (2013).
Since their 2009 FCA grant, ERS, its performers, and designers have received an Elliot Norton Award (2010), a Lucille Lortel Award (2011), an Obie for Sustained Excellence (2012), and The Edwin Booth Award (2014). Artistic Director Collins has received a Guggenheim Fellowship in Drama and Performance Art (2010), a Lucille Lortel Award for Outstanding Director (2010), an Elliot Norton Award for Outstanding Director for ERS's production of Gatz (2010), a United States Artists Fellowship (2011), and a Doris Duke Performing Artist Award (2014). Prior to ERS's 2009 Grants to Artists award, the company received a New York Dance and Performance "Bessie" Award (2003) and The Peter Zeisler Memorial Award (2009).
Collins graduated from Yale University in 1991 with a combined degree in English Literature and Theater Studies.