John Godfrey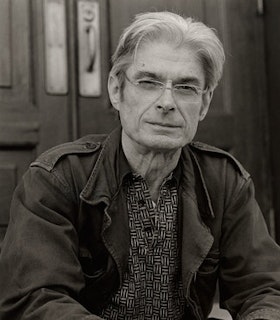 Although literary to the bone, I seem to have led, or been impelled to lead, a non-literary existence by New York standards, and an FCA award reassures me that a career focused on the writing of poems needn't be a Limbo.
- John Godfrey, January 2010
Artist Statement
Throughout my adult life, which coincides with my writing history, I have chosen ways to make a living that immersed me in New York City, my love for which is exceeded only slightly by my love of poetry. My career as an HIV/AIDS Registered Nurse Clinician was, on a daily basis, unpredictable, heavy on drama, and full of wonderful persons I would not otherwise have been able ever to know, and know quite well, in such a segregated city as New York. As always my writing—I finished an average 45-50 poems per year despite 60+ hour work weeks—went through "genetic drifts." After retirement, without the same unpredictable and social daily life, I found my work to take, after a while, a "genetic leap." My concerns have been for a long time with reducing syntactical and grammatical necessities, and with writing in readable but almost opaque associations. I have a very large and picturesque memory bank. I write from what I "hear" in my mind and want to make a poem that is open and open-ended and connected to lived life. I've never felt freer when writing than now.
- December 2014
Biography
John Godfrey is a poet and retired nurse. For over seventeen years Godfrey served as a Registered Nurse for maternal and pediatric HIV/AIDS patients in North Brooklyn. Godfrey's poems are inspired by his work in the hospital with people he would have little chance of meeting and his daily life in New York's East Village.
Godfrey is the author of numerous volumes of poetry including 26 Poems (1971), Three Poems (1973), Music of the Curbs (1976), Dabble (1982), Where the Weather Suits My Clothes (1984), Midnight on Your Left (1998), Push the Mule (2001), Private Lemonade (2003), and City of Corners (2008). Godfrey's 2009 FCA grant supported Tiny Gold Dress (2012), a full-length collection of poems; in the same year he released Singles and Fives, a chapbook of 30 poems. With the support of his Grants to Artists Award, Godfrey also produced a collaboration with Alex Katz that featured Godfrey's poems accompanied by Katz's monoprints. His poems have since appeared in Vanitas, Sal Mimeo, 1913, Talisman, New Hunter's Review, New American Writing, Cruel Garters, A Gathering of the Tribes, and The Chicago Review.
Since receiving his 2009 Grants to Artists award, Godfrey was named a Z Foundation Fellow (2013). Prior to his 2009 FCA grant, Godfrey was a General Electric Foundation Fellow (1984) and received two Fund for Poetry Awards (1986, 1989). In the mid-1970s and early 1980s he was a leader of Poetry Workshops at The Poetry Project.
Godfrey holds an A.B. from Princeton University and a B.S. from the School of Nursing at Columbia University.