John Jasperse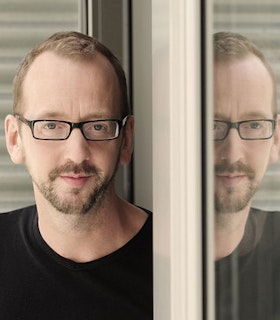 In this ever-changing climate of funding for dance, public support... is becoming increasingly scarce. The support that foundations like [FCPA] provide to the dance world is crucial to the continued health and growth of dance in this country. I am extremely grateful for your support of my Company and myself.
- John Jasperse, 2004
Artist Statement
A central problem in contemporary dance is the degree to which it has become rarefied and dislocated from the culture in which it exists. The need to connect to a broad public is a key challenge; I balance this with my desire to make work which is centered in experimental processes and which seeks to push the boundaries of the form. I do not see these two goals as mutually exclusive. I seek to create experiences that are not defined by entertainment value systems, and which at times can elicit deeply private, personal, and intellectual responses. My work is rooted in a long and sometimes arduous period of exploration and development. I am deeply committed to questioning and critical evaluation as a means of moving forward my own work as well as the development of the form. Currently, issues surrounding the nature of the perceptual process are central to my work.
- 2005
Biography
John Jasperse is a dance artist known for combining formal purity with social commentary. His contemporary dance choreography also integrates visual design elements. Under the aegis of John Jasperse Projects, he has created evening-length works as well as various shorter works and projects in collaboration with other artists.
Jasperse's works prior to his 2003 FCPA grant include Madison as I Imagine It (1999), Fort Blossom (2000), Giant Empty (2001), just two dancers (2003), and California (2003). With the support of his 2003 Grants to Artists award, Jasperse premiered Prone at The Kitchen in 2005. This evening-length work featured a commissioned score performed live by composer Zeena Parkins. Since receiving his 2003 FCPA grant, Jasperse has created Becky, Jodi, and John (2007), Misuse liable to prosecution (2007), Truth, Revised Histories, Wishful Thinking, and Flat Out Lies (2009), Canyon (2011), and Fort Blossom revisited (2000/2012). In 2014, Jasperse premiered Within Between, a commissioned evening-length work with an original score by Jonathan Bepler. Jasperse has also created works for other companies including Mikhail Baryshnikov's White Oak Dance Project, Batsheva Dance Company in Tel Aviv, Israel, and the Lyon Opéra Ballet, among others.
Jasperse's work has been presented by major festivals and presenting organizations throughout the U.S. and Europe, as well as Brazil, Chile, Israel, Japan, and Panama. In New York City, Jasperse's work has been performed at venues including the Next Wave Festival at Brooklyn Academy of Music, Dance Theater Workshop/ New York Live Arts, Danspace Project, The Joyce Theater, and Performance Space 122.
Subsequent to his 2003 Grants to Artists award, Jasperse was honored with a Tides Lambent Fellowship in the Arts (2004-2007), a United States Artists Brooks Hopkins Fellowship (2011), a New York Dance and Performance "Bessie," Award for Outstanding Production for Within between (2014), and a Doris Duke Artist Award (2014). Before receiving his 2003 FCPA grant, Jasperse received awards both in the United States and abroad, including fellowships from the National Endowment for the Arts (1988, 1994, 2000), three prizes in the Rencontres Internationales Chorégraphiques de Bagnolet (1996), the Choreography Prize at the 3rd Suzanne Dellal International Dance Competition in Tel Aviv for Excessories (1996), a Mouson Award by Künstlerhaus Mousonturm in Frankfurt (1997), a Doris Duke Award (1998), a Scripps/ADF Primus-Tamaris Fellowship (1999), and a New York Dance and Performance "Bessie," Award (2001).
Jasperse graduated from Sarah Lawrence College in 1985. He is Artistic Director/Choreographer of John Jasperse Company, established in 1989. In 1998, Jasperse created Thin Man Dance, Inc., a New York-based not-for-profit organization; in 2003, he created Association Chapitre II in Lyon, France; and in 2009, Jasperse co-founded Center for Performance Research with Jonah Bokaer.