John Jesurun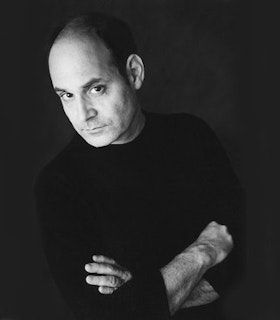 [The Grants to Artists award] was enough for me to really do something, to make changes, to move ahead, to reflect, to really get work done, to produce freely.
- John Jesurun, March 10, 1995
Artist Statement
My work combines visual, verbal, and spatial "points of view" as integral pieces in the perception of simultaneous realities. Early on, this interest led me to the exploration of the effect of mass media on visual, spoken, and written languages, as well as thought itself. The many layers through which the interior struggles to become expression constantly reinvigorate the communication between these dimensions. With that comes the substantial use of the camera, which became not only an extension of myself and the performers but a participant and "character" itself. For me, the urge to use all media comes from an area found deep in a pre-language state. In all, it is a process, which begins somewhere before writing, continues through writing, and becomes a multi-dimensional form.
- 2014
Biography
John Jesurun is a writer, director, and media artist based in New York. His presentations integrate elements of language, film, architectural space, and media. His work is characterized by the integrated creation of text, direction, set, and media design.
In 1982, Jesurun began his 61-episode serial play Chang in a Void Moon at the Pyramid Club in New York. Since 1984 he has written, directed, and designed over 30 pieces including Shatterhand Massacree (1985), the media trilogy of Deep Sleep (1986), which received a 1986 Obie Award, White Water (1986), Black Maria (1987), Everything That Rises Must Converge (1990), and SNOW (2000). His productions include Faust/How I Rose at Brooklyn Academy of Music (2004) Harry Partch's Opera Delusion of the Fury at the Japan Society, (2007), Philoktetes at Soho Repertory Theatre (2007), Firefall at Dance Theater Workshop (2009), Liz One at The Chocolate Factory (2009), and Stopped Bridge of Dreams at La MaMa E.T.C., (2012). His work has been presented by other venues including The Kitchen, the Wexner Center for the Arts, Mickery Theater, Royal Festival Hall in London, the National Theater Company of Mexico, and the Vienna Festival. In 2014 his new projects included a collaboration with Takeshi Kawamura and new episodes of the Vimeo web-serial Shadowland (2012)
Jesurun's written work is published by TCG, Sun & Moon Press, Performing Arts Journal, NoPassport Press, Yale Magazine, and Theater der Zeit. His latest collections are Shatterhand massacre: and other media texts (2009), and A Media Trilogy (2009).
Following his FCPA support, Jesurun received fellowships from the National Endowment for the Arts (1994), the MacArthur Foundation (1996), the Rockefeller Foundation (1999), and an award from the Asian Cultural Council (2013). Previous to receiving his 1993 Grants to Artists award, Jesurun was the recipient of a fellowship from the John Simon Guggenheim Memorial Foundation (1990).
Jesurun has taught theater at Goethe University in Frankfurt, Justus Liebig University in Giessen, DASARTS in Amsterdam, New York University, Tokyo University, Kyoto University of Art and Design, Bard College, Carnegie Mellon, and The New School. Jesurun received a B.F.A. from Philadelphia College of Art, and an M.F.A. in Sculpture from Yale University.