John Moran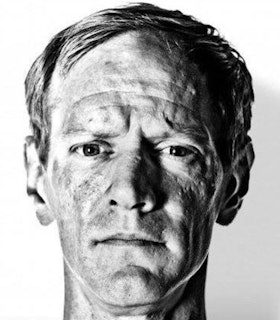 When I meet other artists that are still struggling to be heard—facing most of the problems that I did—I always wish I could at least lighten their financial burdens for them, the way you have for me. The wonderful thing about believing in someone's work is that you know you're helping them find their own inner resources, and that when they do they'll be able to reach a lot of other people in return.
- John Moran, February 14, 1996
Biography
John Moran is a composer, choreographer, and theater artist. He began his career composing large-scale operas, but later began choreographing detailed works in which performers silently mime and lip-sync his precisely timed musical compositions. He often employs repetitive structures in what he calls sound-scores that consist of spoken word, recorded music, and layered noises. Moran describes his recent works as theatrical portraits of people that he meets and asks to record their vocals in a studio setting.
From 2005 to 2011 Moran created works for the dancer Saori Tsukuda in which they portrayed representations of themselves, touring internationally under the name "John Moran... and his neighbor, Saori." In 2011 they performed John and Saori (…in Thailand) at ISSUE Project Room and The Days and Nights Festival at The Philip Glass Center for the Arts, Science, and the Environment. Moran created an open source animated film based on this piece, titled Thailand, that combines live video with computer generated imagery. In 2013, Moran completed a trilogy of solo performances, Etudes: Amsterdam (The Con Artist), and Goodbye Thailand (Portrait of Eye) that won Best of Fringe in Amsterdam and Spoleto. The works were commissioned by Fringe Amsterdam, Mayfest Bristol, Battersea Arts Centre, and SpoletOpen in Italy. His works have featured performers such as Uma Thurman, Iggy Pop, Allen Gingsberg, and Julia Stiles.
Moran's other works include Zenith 5 (2006), The Jack Benny Program (1988), The Manson Family: An Opera (1990), Matthew in The School of Life (195-96), Everyday Newt Burman (The Trilogy of Cyclic Existence) (1993), and Book of the Dead (2nd Avenue) (2000). His works have been commissioned by and presented at venues such as Lincoln Center for the Performing Arts, American Repertory Theater at Harvard, Performance Space 122, The Kitchen, La MaMa E.T.C., The Public Theater, and Galapagos Art Space.
Subsequent to his 1995 FCPA support, Moran received The American Theater Wing Design Award for "Best Theatrical Design in New York City" in 2000 for Book of the Dead (2nd Avenue). Moran also has served as an artist-in-residence for the city of Paris from 2004 to 2005. Prior to receiving his 1995 Grants to Artists award, Moran was the recipient of two 1993 New York Dance and Performance "Bessie" Awards, and a 1994 Obie Award for Sustained Achievement. He has received fellowships from The American Academy of Arts and Letters and the PEN American Center. He studied with composer Philip Glass.