Jonathan Bepler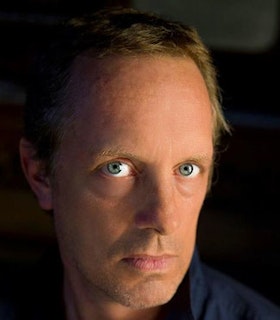 [The grant] relieved the very familiar feeling of emptiness associated with being one check away from going out again for a day job. Just knowing that I'm a couple notches away from being broke has allowed me to relax a bit and to think a little more quietly about the work I'm doing now. It has also allowed me to spend time developing things which don't have a specific target. During this time I have explored, for example, multi-source sound ideas...
- Jonathan Bepler, August 2001
Artist Statement
I like to work in situations where a musical language is not taken for granted. Where sounds and timbres are not separable from the abstraction of notes or rhythms. Where one is not quite sure how to use the music. But I still want to do a composer's job. Can I have a musical intention without corrupting the sounds themselves? This is desire, but with detachment intact. Listening to music can separate us from where we stand. Indeed, one is used to looking for transportation, in a concert hall, or with a car radio. That is using sound to erase pictures, perhaps by conjuring others. But my Proustian associations too often lead back to some car commercial. Perhaps sometimes in collaborative and 'multimedia' work, though, the various forms can invite each other, providing layers of context from which there is no need to escape. Then I am forcibly grateful.
- 1999
Biography
Jonathan Bepler is a composer. He has worked with many choreographers, including John Jasperse, Sasha Waltz, Jennifer Lacey, and Wally Cardona. He has led ensembles of both improvised and pre-composed music and has shown work in New York and Europe.
Bepler's work with visual artist and filmmaker Matthew Barney has spanned nearly twenty years and has included seven films and nine performances. Over ten years, they collaborated on The Cremaster Cycle, a project consisting of five feature-length films with original composition and orchestration by Bepler. The films were released from 1994-2002, during which time Bepler received his Grants to Artists award. Films from the series have been screened worldwide at venues including the Guggenheim Museum, Walker Art Center, San Francisco Museum of Modern Art, Regen Projects, Fundació La Caixa in Barcelona, Kunsthalle Wien, and Barbara Gladstone Gallery.
Bepler's 1999 FCPA grant funded the purchase of upgraded audio hardware. During his grant period his newly developed sound ideas led to a show at MoMA PS1, in addition to performances in New York and London. Bepler's concert music includes commissions for the Ensemble Modern, the Glenn Branca Ensemble, and the Basel Synfonietta. Curtain Callers (2011), his collaboration with artist Ann-Sofi Siden, features the Royal Dramatic Theatre of Sweden's actors, technicians, and architecture. Bepler's multi-channel sound installation, Invisible Dances, for Broken Ensemble was shown at Contemporary Arts Center, Cincinnati in 2007. His score for The Rape of the Sabine Women (2007) was a collaboration done in Greece with Eve Sussman. This project includes 600 voices in the Herodeon theater at the Acropolis, a cliff-side Bouzouki ensemble, and a piece for butchers, knives, and meat.
Bepler received an M.F.A. in Music from Bennington College. His major areas of study were composition with Louis Calabro, improvisation with Bill Dixon, percussion with Milford Graves, and performance with artists and choreographers including Lisa Nelson and Min Tanaka.