Jonathan Burrows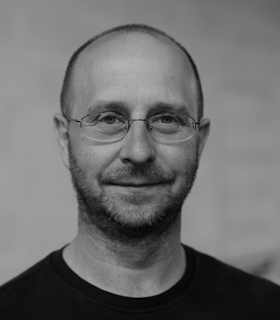 The grant came at a moment in my career when I wanted to concentrate on one to one collaborations with other artists, out of which grew the body of work with Matteo Fargion which I've been busy with ever since.
- Jonathan Burrows, August 11, 2015
Biography
Jonathan Burrows is a choreographer who began his career as a member of the Royal Ballet in London. After receiving his 2002 Grants to Artists award, Burrows began making a body of duets with composer Matteo Fargion. Burrows and Fargion describe their work as "handmade and human scale," mixing the formality of classical music composition with an open and often anarchic approach to performance.
The duo's work began in 2002 with Both Sitting Duet, followed by The Quiet Dance (2005), Speaking Dance (2006), Cheap Lecture (2009), The Cow Piece (2009), Counting To One Hundred (2011), One Flute Note (2012), Show And Tell (2013), Rebelling Against Limit (2013) and Body Not Fit For Purpose (2014), which was commissioned by the Venice Biennale. The two men are co-produced by Kaaitheater Brussels, PACT Zollverein Essen, Sadler's Wells Theatre London and BIT Teatergarasjen Bergen, and are in-house artists at the Nightingale in Brighton, England. Since 2002 they have toured across 31 countries.
Burrows's commissions include William Forsythe's Ballet Frankfurt and Sylvie Guillem, and Burrows and Fargion were contributing artists to the William Forsythe 'Motionbank' website project. Burrows has been an associate artist at Kunstencentrum Vooruit in Gent, London's South Bank Centre and Kaaitheater Brussels. Both Sitting Duet won a 2004 New York Dance and Performance "Bessie" Award.
Burrows holds an Honorary Doctorate from Royal Holloway University of London. He is a visiting member of faculty at P.A.R.T.S in Brussels and has been Guest Professor at Royal Holloway University Of London, Hamburg University, The Free University Berlin, Giessen University and Koninklijke Academie van Schone Kunsten Gent. He is the author of A Choreographer's Handbook, which has sold over 8,000 copies since 2010.