Jonathan González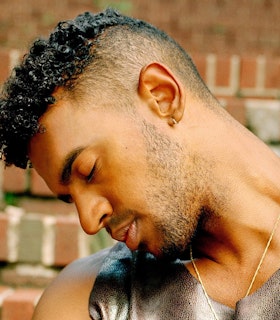 I have been able to fund the initial and coming phases of new creative work and support the needs of my community during this unprecedented [pandemic] year. More specifically, I've been in creative production with BRIC Arts Media as a Video Art resident composing a film on the prescient role of community gardens in New York City, as well as the shifting landscape on sites like Governors Island due to concomitant gentrification. Secondarily, I have been organizing mutual aid efforts after the murder of George Floyd within an abolitionist think tank entitled, The People's Space. The remaining funds have been split with one portion going towards the immediate needs of my community for emergency services (i.e., housing, childcare, healthcare expenses). The second portion has been saved in order to support my immediate expenses as the prospect of cultural opportunities are unclear in 2021 due to COVID-19.
- Jonathan González, December 21, 2020
Artist Statement
I compose performance, text, sound, film, and sculpture. These works are abstractions, or illegible revisions, and/or revisitations on themes of the built environment, economies of historical data, and the political utility of the stage. My work is often collaborative with the intent to expand the field of artistic practices in any creative process, and to highlight the ethical questions of authorship, finances, and labor. Even in the form of objects, many of these works are performative and corporeal, at times manifesting as constructed items typically used for manual labor, and/or choreographing biological material. I am particularly intrigued by what becomes disrupted through the social act of witnessing and participation.
- December 2019
Biography
Jonathan González is an artist working at the intersections of choreography, sculpture, text, and time-based media. Their practice speculates on circumstances of land, economies of labor, and the conditions that figure black and contemporary life through research-based processes synthesized through performative assemblages usually generated collaboratively.
González's work ZERO (2018) presented the history and trauma of slave trafficking practices against the architecture of St. Mark's Church, and was nominated for a New York Dance and Performance "Bessie" Award for Outstanding Production. Lucifer Landing I, a commissioned work presented at MoMA PS1 in 2019, proposed the idea of a solitary dwelling as a choreographic action. This installation with original score and film conceptualized blackness and post-anthropocentrism in the form of a geodesic dome through which visitors were encouraged to move, one-by-one.
González's Illusion Procedures played with the iconic image of the black entertainer to subvert traditions related to theater, the stage, and representation, and was presented at The Studio Museum in Harlem as part of their symposium Culture in a Changing America (2017). Their writings have been published by 53rd State Press, Contact Quarterly, Cultured Magazine, and deem journal.
In 2019, González was a New York Dance and Performance "Bessie" nominee for Breakout Choreographer. They have received fellowships from the Art Matters Foundation and the Jerome Foundation, and were an artist in residence at the Lower Manhattan Cultural Council, Maggie Allesee National Center for Choreography, and the Shandaken Project on Governors Island.
González is a graduate of LaGuardia High School for the Performing Arts and has a B.A. from Trinity College, an O.Y.P. from Trinity Laban Conservatoire, and an M.F.A. from Sarah Lawrence College.