Joseph Grigely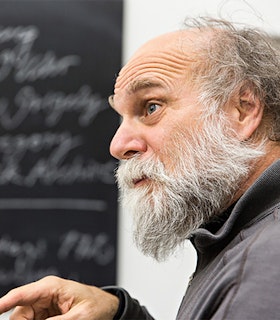 The past year has involved participation in several group exhibitions, primarily in Europe… I also have been preparing new large-scale photographs for shows in Rotterdam, Madrid, and Boston later this winter. However, I have reserved the use of my FCA funds for next year. Between May 2020-September 2021 I will be on sabbatical from my teaching job, and have a number of major projects planned for this time: a new film, several sculptures that will involve technical collaborations with fabricators, and several writing projects as well… This will be a period of intense studio time. The funds will be used to pay for some production costs, studio resources, and related expenses.
- Joseph Grigely, December 17, 2019
Artist Statement
Some years ago I was sitting in the New York apartment of a friend having tea and a conversation. A large part of our exchange had to do with the senses, and how communication involved a wide array of possibilities outside the norm of what it means to be human. Deep into the conversation, my friend told me a story about a blind baby who had learned to imitate—perfectly—the sound of a refrigerator and the sound of a car going over gravel as it approached the house. After a long pause in which we considered the implications of this, my friend turned to me and said: "Beauty is difficult. Never forget that."
- December 2018
Biography
Joseph Grigely is an artist and writer whose work addresses questions about the materialization of language and communication, and the ways conversations might be represented in the absence of speech. A collector of inscribed words, documents, and related artifacts, Grigely's ongoing work, collectively titled Conversations with the Hearing, is concerned with archives and archival practices and how archives might be activated with formal and narrative meaning.
Prior to receiving his Grants to Artists award, Grigely held solo exhibitions and projects at Nogueras Blanchard, Madrid, Spain (2018); Air de Paris, Paris, France (2017); and Marian Goodman Gallery, London, United Kingdom (2016). His work has been shown at the Douglas Hyde Gallery, Dublin, Ireland; Museum of Contemporary Art, Chicago; Musée d'Art Moderne de la Ville de Paris, Paris, France; Whitney Museum of American Art, New York; and in the Berlin, Istanbul, Liverpool, Sydney, and Whitney biennials. His work can be found in the collections of Kunsthaus Zürich, Zürich, Switzerland; The Museum of Modern Art, New York; Stedelijk Museum, Amsterdam, Netherlands; Stedelijk Museum voor Actuele Kunst, Ghent, Belgium; Tate Modern, London, United Kingdom; and the Whitney Museum of American Art, New York.
Grigely has published several books, including Oceans of Love: The Uncontainable Gregory Battcock (Koenig, 2016), MacLean 705 (The Architectural Association/Bedford Press, 2015), Exhibition Prosthetics (Bedford Press and Sternberg Press, 2010), Blueberry Surprise (Editions Michele Didier, 2006), Conversation Pieces (Center for Contemporary Art and Korinsha Press, 1998), Textualterity: Art, Theory, and Textual Criticism (University of Michigan Press, 1995), as well as essays on disability theory and body criticism.
Grigely is a John Simon Guggenheim Memorial Fellow (2005), and holds a D.Phil. from Oxford University. He is Professor of Visual and Critical Studies at the School of the Art Institute of Chicago.