Joshua Abrams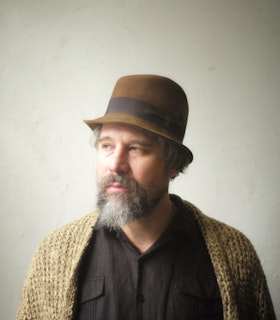 There is inestimable value in knowing that an organization with FCA's history is not only aware of my work but deems it worthy of support, nurturing and encouragement. Along with its emotional uplift, this acknowledgement feels like an inspired challenge for me to further develop my music... The funds from the grant proved useful for many of these activities, in some cases by providing direct support and in other instances through allowing for the time necessary to develop projects further.
- Joshua Abrams, December 16, 2018
Artist Statement
I build sonic environments that explore stasis & motion, space & density, old & new (in approach & instrumentation), & esoteric & familiar. My work weaves composition & improvisation together, inviting my fellow musicians to participate as sound producers, active listeners, & navigators of shifting musical limitations.
- December 2017
Biography
Joshua Abrams is a composer, bassist, and improviser. His early formative musical experiences include performing in a chamber group conducted by Earle Brown, and busking on the streets of Philadelphia as an original member of The Roots. Since the mid-1990s, Abrams has been a key figure in Chicago's creative music communities and an international touring musician with artists across genres. In 2010, Abrams formed the project Natural Information Society (NIS), a group that creates long-form psychedelic environments that join the hypnotic qualities of the guimbri, a Gnawan lute, to a wide range of contemporary musics and methodologies including jazz, minimalism, and experimental rock.
After receiving his Grants to Artists award, Abrams released Excavations, an album of solo acoustic bass recordings (Feeding Tube Records, 2018), and completed two albums and tours of the United States and Europe with Natural Information Society. Abrams has toured internationally with NIS, including performances at Café Oto, London, United Kingdom; Eastern Daze Festival, Ghent, Belgium; Institute of Contemporary Art at the University of Pennsylvania, Philadelphia; Festival International de Music Actuelle de Victoriaville, Victoriaville, Quebec, Canada; Fylkingen, Stockholm, Sweden; Guelph Jazz Festival, Guelph, Ontario, Canada; Museum of Contemporary Art, Chicago; Pritzker Pavillion, Millennium Park, Chicago; Sant'anna Arresi Jazz Festival, Sant'anna Arresi, Italy; Serralves em Festa, Serralves, Portugal; Stanser Musiktage Festival, Stans, Switzerland; Teatro Maria Matos, Lisbon, Portugal; and Ulrichsberger Kaleidophon, Ulrichsberg, Austria. Natural Information Society's recorded works include Simultonality (eremite, 2017); Magnetoception (eremite, 2015); Represencing (eremite, 2012); Natural Information (eremite, 2010); and Cipher (Delmark, 2003).
Abrams has scored numerous feature films, including The Trials of Muhammad Ali (2013), and several projects with award-winning director Steve James: the films Abacus: Small Enough To Jail (2017), Life Itself (2014), The Interrupters (2011); and the documentary series America To Me (2018). Abrams' collaborations with visual artists include projects and exhibitions with Lisa Alvarado, Theaster Gates, and Simon Starling.
Abrams has appeared on over 100 recordings, including those by Fred Anderson, Bonnie "Prince" Billy, David Boykin, Hamid Drake, Neil Michael Hagerty, Nicole Mitchell, Roscoe Mitchell, Mike Reed, Matana Roberts, The Roots, and Town and Country. His performances include work with The Fred Anderson Trio, Sean Bergin, Ari Brown, Earle Brown, Peter Brötzmann, Rhys Chatham, Gerald Cleaver, Tony Conrad, Toumani Diabaté, Bill Dixon, Axel Dörner, Von Freeman, Jandek, Kidd Jordan, Oliver Lake, Joe McPhee, Joe Morris, Evan Parker, Jeff Parker, William Parker, Ballaké Sissoko, Damo Suzuki, Craig Taborn, Chad Taylor, and Kurt Vonnegut. He was an artist in residence at Fred Anderson Park (2017) and at The Hideout (2016), both in Chicago.