Judith Geichman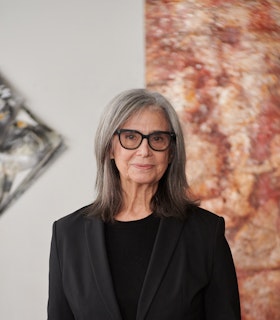 Artist Statement
I am an abstract painter, a physical painter, and my approach into the work is often messy, immediate, intuitive, and experimental. Along the way I have acquired a trusted inner dialogue that directs what stays and goes as the painting is being built. The paint is a constant concern, and the paint is the phenomena that sparks my thoughts, emotions, and imagination that become embodied in the surface of the painting. In all of this, there is a piling up of painting events, moments of combustion when materials meet, coalesce, settle, and dry. I go back and forth between accumulation and reduction. While I work, I see the histories of painting hover and float by, inspired by my years of looking. And then suddenly all the marks, pieces of painting fragments collected, combined, and saved, leave a new history of right now.
- December 2022
Biography
Judith Geichman's process is driven by a relentless exploration of painting's possibilities through abstraction. Her ever-shifting and rigorous approach is at times contemplative and cautious, and at others, aggressive and reckless. She embraces risk and uncertainty, paying equal attention to the constructive and destructive, as her paintings are generated through a sequence of formal and material instigations and responses.
Atmosphere, Geichman's solo exhibition at Regards, Chicago, IL (2022), was comprised of large and small paintings on hanji paper, yupo paper, and linen generated by pouring paint and using a multitude of tools and application processes on surfaces laid on the floor. She constructs and deconstructs layers by scraping, extracting, or folding, sometimes adding remnants from other paintings, as well as detritus from the studio. For Geichman, each painting becomes its own atmosphere while also functioning as a component of the larger atmosphere—the studio.
Geichman's solo exhibitions include Judith Geichman, Frieze New York, New York, NY (2022); Judith Geichman, University Club of Chicago, Chicago, IL (2021); DIAMOND (2018) and Solitaire (2015), Regards, Chicago, IL; Soak, Alfedena Gallery, Chicago, IL (2007); Judith Geichman, Chicago Cultural Center, Chicago, IL (1998); Judith Geichman: Paintings, A Ten Year Evolution (1982–1992), Struve Gallery, Chicago, IL (1992); Forms of Contemporary Illinois (FOCI), Illinois State Museum, Springfield, IL, and Illinois State Museum James Thompson Center, Chicago, IL (1992); Judith Geichman, Spertus Museum of Judaica, Chicago, IL (1988); and Judith Geichman, Artemisia Gallery, Chicago, IL (1982).
Her work is in the permanent collections of the Museum of Contemporary Art Chicago, Chicago, IL; University Club of Chicago, Chicago, IL; The University of Chicago Booth School of Business, Chicago, IL; Illinois State Museum, Springfield, IL; and Rockford Art Museum, Rockford, IL.
Geichman has received The Margaret Klimek Phillips Fellowship (2003) and the National Endowment for the Arts Visual Artists Fellowship Grant, Painting (1989, 1983), and has been awarded residencies through the Brown Foundation Fellows Program at the Dora Maar House, Ménerbes, France (2023); the American Academy in Rome, Rome, Italy (2011); and the Gilfélag Society, Akureyri, Iceland (2005).
She holds a B.S. from Ohio State University and an M.F.A. from the School of the Art Institute of Chicago.