Julian Maynard Smith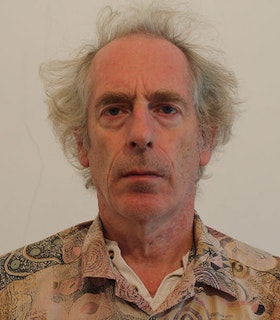 The breathing space which the [Grants to Artists] grant offered, the ability to concentrate on work, contributed enormously to both the practical aspect of having time to develop the ideas at the right pace, and the psychological one of sustaining confidence and freedom from distraction. The new projects now in motion I hope will help sustain the economic possibility of continuing as a professional performance artist without an overwhelming commitment to other earning occupations.
- Julian Maynard Smith, February 16, 1999
Artist Statement
Often a piece will emerge from where an idea about how the world works meets a simple sculptural idea for a performance––sometimes ideas that originate decades apart. I am constantly playing with little, unconnected impressions or structures and every so often one will chime with something else from a different era of my life. I can still find uses for an idea I had as a student.
The work usually comes in cycles of pieces that share a particular characteristic—whether that's a use of space or site, the role of language, an approach to a mental phenomenon, a particular material or technology, or how it interacts with a public.
- 2014
Biography
Julian Maynard Smith studied fine art before becoming a performance artist in the 1970s. Since then he has worked across the visual arts and theatre, as a performer, writer, director, and designer. He is the co-founder and Artistic Director of Station Opera House, a London-based performance company with a unique physical and visual style. Founded in 1980, it has produced over thirty-five productions of widely varying scale and focus, but all rooted in an interest to make work that brings together theatre and the visual arts in a single unified vision. Station Opera Houses' first works, Natural Disasters (1980-82) and Sex and Death (1981-85), introduced an unexpected instability to the mundane physical world of the performers. Another early work, Drunken Madness (1981-83), took place suspended under the Brooklyn Bridge. The Bastille Dances (1989), commissioned to celebrate the bicentenary of the French Revolution, involved a company of fifteen constantly moving 8,000 concrete blocks, creating a series of sculptures. The large-scale outdoor architectural project was subsequently presented in London, Amsterdam, Salzburg, and Barcelona.
Other selected works include Piranesi (1988), commissioned by Creative Time and performed in New York and Tokyo; Black Works (1991), premiered at BITEF Belgrade and performed at The Kitchen, Festival des Théâtres Ameriques, Montreal, and the Antwerp Festival; FCPA-supported Roadmetal Sweetbread (1998-2013), premiered at Théâtre de la Cité Internationale, Paris, and was performed across the world. Mare's Nest (2001-2004), premiered at Kampnagel Hamburg and toured in Vienna, Florence, Geneva, and London; Mind Out (2008-2011), premiered at ImPACT Essen and toured in Edinburgh and Brussels; and Dominoes (2009-2014), premiered at Create Festival in London and was performed in, Copenhagen, Marseilles, and Ljubljana, Helsinki
Maynard Smith received a B.A. from Middlesex University, London. In 2009, Maynard Smith was an Arts and Humanities Research Council Fellow in the Creative and Performing Arts, a Kettle's Yard Fellow at Cambridge University, and a visiting professor at Central Saint Martins.