Julian Talamantez Brolaski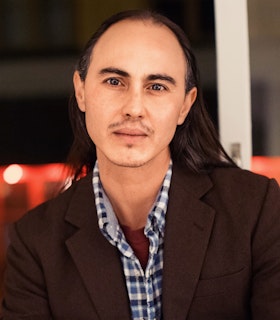 I wanted make my living as an artist, but had no idea how that would come to be. This grant was the beginning of that dream come true. It was the first time I had received such a large sum in support of my artwork, and in recognition of being an artist—it was a good feeling, incredibly touching and validating. In practical terms, the grant enabled me to pay off a large sum of credit card debt—a huge psychological relief... The grant functioned as a bridge for me through the economic dry spell of the pandemic, as well as offering an investment in my future development as a poet and musician—but most of all it made me feel good that I was a working artist, a real artist, one who deserved support. It was a blessing. 'Ixéhe, thank you, from the bottom of my heart.
- Julian Talamantez Brolaski, July 12, 2021
Artist Statement
I used to lock up my writings along with my cigarettes in a file cabinet so my mother couldn't see them. I considered poetry a matter of profound embarrassment because not only was it considered cheesy but because I could derive from this supposedly cheesy thing the best kind of feeling from reading and making it, the kind that gave me chills. And I wanted to impart that feeling to others. I was also embarrassed by poetry because it was the truth. And I could hardly bear the truth. So I used to like to hide in my poetry by disturbing the words and making up words and generally being coy with my meaning. I used to pick up bits of language like a magpie and put them in my notebook and make my poems like a collage with my emotions as the glue. I still do that but what I make with the raw material is more direct and as if infused with the enthusiasm of addressing a person you're newly in love with, and intending to elicit a response, make them feel pleasure, heal their hurts, give them the gift of the difference of your thought from theirs.
- December 2019
Biography
Julian Talamantez Brolaski (it/its/itself) is a poet, country musician, and scholar whose work deals with issues of indigeneity, resistance, queer/two-spirit, trans, and mixed-race identity, and the ways that language and song function as medicine.
Brolaski's book Of Mongrelitude (Wave Books, 2017) is a documentation of mixed-race and mixed-gender experience; a colloquy on the mongrel body, textual and actual, sexual and specieal. The book was a finalist for the Lambda Literary Award for Transgender Poetry in 2018. Advice for Lovers (City Lights, 2012), composed in a mixture of verse and prose, contains formal sonnets, alliterated verse, and invented forms intended to queer Ovid's heterosexual counsel in Ars Amatoria (The Art of Love). Gowanus atropolis (Ugly Duckling, 2011) is an eco-poetical exploration of the Gowanus Canal in Brooklyn, re-inscribing, as always already present, both queer and Indigenous spaces in and around New York City through a radical reshaping of English. Brolaski is also the co-editor of NO GENDER: Reflections on the Life & Work of kari edwards (2009), a book dedicated to honoring the work of the late transgender artist and activist.
Brolaski's work has been included in many anthologies, including: New Poets of Native Nations (Graywolf, 2018), Tending the Fire: Native Voices and Portraits (University of New Mexico Press, 2017), and Troubling the Line: Trans and Genderqueer Poetry and Poetics (Nightboat Books, 2012), and in journals including Poetry, Nepantla 3 (A Journal Dedicated to Queer Poets of Color), Vassar Review, The Brooklyn Rail, and BOMB.
Brolaski has fronted several country bands as a singer, songwriter, and rhythm guitarist, including Juan & the Pines (in New York City and California), the Western Skyline (in San Francisco and Oakland), the Low & the Lonesome, and the Invert Family Singers. Brolaski has also sung with the Bay Area American Indian Two-Spirits (BAAITS) drum, at powwows, San Francisco Pride, the Queer Women of Color Music Festival, the San Francisco LGBT Center Transgender Day of Remembrance, and on Alcatraz Island as part of a KQED documentary on two-spirit identity.
Brolaski has performed its poetry and music across the United States and at literary festivals in many countries, including: Brazil, Ireland, the Netherlands, Norway, and Sweden. It has been awarded fellowships and residencies at Djerassi, the Millay Colony, the Montalvo Arts Center, The Pew Center for Arts & Heritage, and Yaddo.
Brolaski received a Ph.D. from the University of California, Berkeley, an M.F.A. from Mills College, Oakland, and a B.A. from the University of California, Santa Cruz.