Julianne Swartz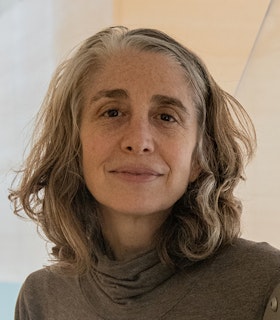 As was the case with many artists, my studio practice this year was curtailed by personal and global concerns. A project that I had been developing for [a museum] was canceled, but the loss of expected income was not a hardship because I had grant money in the bank to cover studio costs. Without that deadline, however, I found it emotionally difficult to make new work. Instead of production, I did some serious re-thinking and re-imagining what my work could offer, at this intense time in human history. I spent the lockdown months researching methodologies of sound and vibrational healing. I used a portion of the grant money to participate in three online courses in different modalities of healing using vibration, vocal tone and color. These will inform a future installation work that is percolating.
With the FCA grant funds, I was able to buy needed equipment, including a new desktop computer for the studio, drives, adapters, and software… This has been a daunting task that I have been working on piecemeal for some years… Though not the most exciting of things to spend grant money on, it truly helps me to rest easier at night, knowing that the massive amount of digital information which comprises twenty-two years of work is secure, organized, and accessible.
- Julianne Swartz, December 19, 2020
Artist Statement
I create sonic experiences, integrated within sculptural objects and architecture, that deepen sensory awareness. I look for opportunities to activate sites and engage audiences. Many projects investigate the transfer of affect through vocal tone and language. Some projects utilize sound for its materiality as palpable, physical energy. Currently, I am exploring how light and sound vibrations effect emotional, neurological, and somatic processing. My goal with every work is to discover new approaches to heighten the perceptual and emotional sensitivities of my viewer.
- December 2019
Biography
Julianne Swartz creates immersive, multi-sensory installations, sculptures, and photographs. Her work synthesizes sound and light into ephemeral, participatory, performative, and social experiences.
Swartz's site-specific installations vary widely in material, process, and function. Her work in the 2004 Whitney Biennial, Somewhere Harmony, utilized a system of plexiglass tubing to distribute singing voices throughout five floors of the museum's stairwell. Can You Hear Me (2004), an auditory and optical periscope commissioned by the New Museum, enabled conversations across physical and social boundaries. In The Sound of Light (2009), radio transmitters broadcasted a sonic treasure hunt throughout the permanent collection exhibits at the Jewish Museum.
Commissioned for The High Line, Digital Empathy (2011-12) animated eleven different park fixtures with startling public service announcements. In Joy, still (2018-19), a commission for Grace Farms Foundation in New Canaan, Connecticut, Swartz created a sixteen-channel soundscape, activating the River building to become an acoustic instrument.
She has completed several permanent and long-term projects, including a 20-channel soundscape, In-Harmonicity, the Tonal Walkway (2016), which is integrated into a footbridge at Mass MOCA. Blue Sky with Rainbow (2016), a permanent installation for the Art Gallery of Western Australia, Perth, harnessed sunlight from the roof of the museum. A permanent commission for the City of New York, Four Directions From Hunters Point (2019), embedded four optical portals in the walls and roof of a Queens library, and received the NYC Public Design Commission's Annual Award For Excellence in Design.
Swartz's grants and awards include a New York Foundation for the Arts Fellowship in Sculpture (2005), a Joan Mitchell Foundation Painters and Sculptors Grant (2008), and an American Academy of Arts and Letters Award of Merit Medal for Art (2010). She was awarded a Visiting Artist Fellowship at UrbanGlass, Brooklyn, and an Anonymous Was a Woman Award, both in 2015.
Swartz earned a B.A. from the University of Arizona in 1989 and an M.F.A. in Sculpture from Bard College in 2002. She attended the Skowhegan School of Painting and Sculpture as a participant in 1999 and as a faculty member in 2008, and has served on the Board of Governors since 2007. Swartz is a member of the faculty at Bard College and also teaches in the M.F.A. Program at the School of Visual Arts.