Julie Tolentino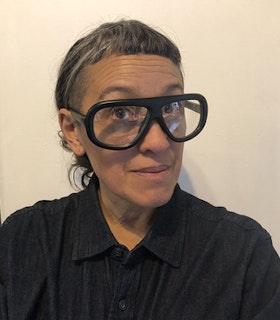 This award is an acknowledgement, an opening, and a gift. This is one that is truly the first of its kind for me – to be acknowledged by peers, to be trusted and noticed for the most primary and essential part of one's life, takes my breath away. As a queer, cis woman of color, my experience in the arts has felt both ahead and behind the times, seen and unseen. It is so incredible to be supported like this.
- Julie Tolentino, January 15, 2020
Artist Statement
My practice offers settings for intimate, movement-based, interdisciplinary exploration. These affective assemblages offer nuanced attention to the ordinary and the queer through slow temporalities and corporeal practices such as activism, somatics, touch, and caregiving.
Traversing internal and external landscapes, devised objects and performances tender the multi-sensory, arrhythmic, and non-narrative in vignette-based serial works or durational projects. Physical actions range from hyper-ordinary to kink to the nearly-imperceptible, such as in the Honey's "choreography of the throat" or immersive one-to-one exchanges. The projects invite live exchange and lingering pointing to multiple dependencies shared amongst fellow wanderers, the disenfranchised.
Through a mestizaje lens, my accumulated practice's (il)legibility and its vibration from the margins hopes to contribute to future worlds through a lifetime refusal of gender- and race-based labor and limited representations. The anxious, sensate body, and its palpable non-monogamous, fail-baiting markers, remains my academy. Offering time as a method of production along with sticky materials, improvisation, and live action as threads, I hope to open into shared space as host, comrade, participant, and provocateur.
- January 2019
Biography
Julie Tolentino is a Filipina-Salvadorean artist whose practice explores durational performance, movement, and sensual practices within installation environments as a way to continually explore the interstitial spaces of race, gender, relationality, and the archive. Her collaborative projects extend into video, object and scent-making, soundscapes, and texts drawn from the "outside" learning spaces of activism, advocacy, loss, and caregiving.
Tolentino's work has been presented at museums, galleries, and festivals both domestically and internationally. Works include Conversation Piece (from .bury.me.fiercely.) at EFA Project Space, New York (2019); After The Future for the Thessaloniki Biennial, Thessaloniki, Greece (2018); Queer Mestiza at Manila Contemporary, Makati, Philippines (2014); Honey at New York University Abu Dhabi, Abu Dhabi, United Arab Emirates, and TheatreWorks, Singapore (2013); Raised By Wolves at Commonwealth and Council, Los Angeles (2013); The Sky Remains The Same at the New Museum, New York (2013); Cry of Love at the Broad Art Center, University of California, Los Angeles, Los Angeles, and Haus der Kulturen der Welt, Berlin, Germany (2010); A True Story About Two People at Participant Inc., New York (2005); The Bottom Project, The Kitchen, New York (2000); Mestiza-Que Bonitos Ojos Tienes at The Green Room, Manchester, United Kingdom and Tramway, Glasgow, Scotland (1998).
Tolentino is the Provocations co-editor for TDR (The Drama Review), and since 2008 has hosted one-to-one and small group artists and writer residencies at Feral House*Studio in the Mohave Desert. Tolentino contributed to the group-published essay "The Sum of All Questions: Clit Club" in GLQ: A Journal of Lesbian and Gay Studies (Winter 2018) in preparation for a book of recollections of the Clit Club entitled Guard Your Daughters - Clit Club 1990-2002 (forthcoming with Josh Lubin-Levy) and is featured in the 2019 Visual AIDS Duets: Kia Labeija and Julie Tolentino. With Pati Hertling, she re-staged Ellen Cantor's 1993 exhibition Coming To Power: Twenty Five Years of Sexually X-plicit Art By Women, and edited the catalogue ELLEN CANTOR: I'm Still Coming (Capricious, 2016). Throughout the 1990s Tolentino ran queer club spaces in New York such as Clit Club, Dagger, and Tattooed Love Child; was a member of ACTUP NY, Art Positive and House of Color Video Collective; and co-created the Safer Sex Handbook for Women for Lesbian Aids Project/GMHC with Cynthia Madansky. Creative partnerships include projects with Ron Athey, Robert Crouch, Stosh Fila, Aldo Hernandez, Lovett/Codagnone, David Rousseve, Abigail Severance, and Mark So.
Tolentino has received grants and support from Pieter Dancemakers Grant (2018); Choreographers in Mentorship and Exchange (2012 with Jmy Kidd and 2010 with Doran George); Art Matters (2010 and 2015); and the Franklin Furnace Fund for Performance Art (1999). She was an artist in residence at BOFFO Fire Island Artist Residency, Fire Island, NY (2018); Hope Mohr Dance's One Year-Community Engagement Project, San Francisco (2017); Yerba Buena Center for the Arts (2014), New Museum, New York (2013), PACT Zollverein, Essen, Germany (2012); and Artsadmin, Toynbee Studios, London, United Kingdom (2002). She is a Dean's Distinguished Fellow researching interdisciplinary performance and pedagogy at University of California at Riverside.