Justin Vivian Bond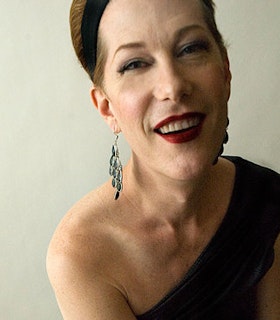 When I was informed I had been awarded the [FCA] grant I was recording a CD and searching for a home all while I was in the middle of a series of performances... It was as if a huge burden was lifted off of me and my work has been all the more joyous because of it.
- Justin Vivian Bond, December 28, 2012
Artist Statement
Although I am known primarily as a performer, I consider myself to be a writer creating my own narrative. I make choices based on what inspires me and what will keep me engaged in living my life in a way that I find fulfilling and interesting. Therefore, I write my own shows and create scenarios––personal and public––that bring me into contact with fascinating and sometimes dangerous people and situations, which, hopefully, encourage political and philosophical discourse as I attempt to maintain a certain level of critical detachment. Sometimes I play myself and sometimes I play a character. I don't believe anyone else has the right to define our identities or to dictate our choices and so I continue to forge my own way within multiple genres, classes, genders, and communities.
- December 2011
Biography
Mx Justin Vivian Bond is a writer, singer, painter, and performance artist. Bond's debut Cd Dendrophile was self-released on WhimsyMusic in 2011, and was followed by FCA-supported Silver Wells in 2012. In 2011, Bond's art exhibition The Fall of the House of Whimsy was presented at Participant Inc., New York. Bond's theatrical endeavors include starring as Warhol Superstar Jackie Curtis in Scott Wittman's production of Jukebox Jackie: Snatches of Jackie Curtis (2012) as part of La Mama E.T.C.'s 50th Anniversary Season; originating the role of Herculine Barbin in Kate Bornstein's play Hidden: A Gender (1991); touring with the performance troupe The Big Art Group, and appearing in John Cameron Mitchell's film Shortbus (2006). Bond's memoir TANGO: My Childhood, Backwards and in High Heels, was published by The Feminist Press in (2011). With funds from V's Grants to Artists, Bond made a down payment on V's lease and was able to self-release the CD, Silver Wells (2012).
Bond has held performances at The Kitchen, Abrons Art Center, Performance Space 122, The Zipper Factory, The Delacorte Theater, Central Park, New York; The Sydney Opera House, Australia; Soho Theater, London, Helen Hayes Theater, New York and the Royal Albert Hall, London.
Prior to V's 2012 Grants to Artists, Bond received a an Obie Award for Kiki & Herb: Jesus Wept (2000), a New York Dance and Performance "Bessie" Choreographer/Creator Award for Kiki & Herb (2004), The Ethyl Eichelberger Award (2008), and The Peter Reed Foundation Grant (2011). Bond received a B.F.A. from Adelphi University (1985), and an M.A. from Central St. Martins College in London (2006).