Kandis Williams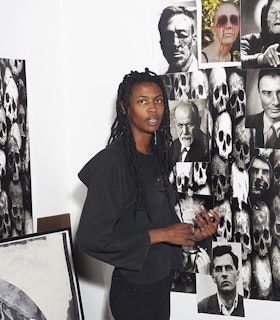 The funds I received from the FCA grant have proven instrumental in furthering my practice over the last year. After relocating my studio from Los Angeles to NYC, the FCA funds went towards furthering my studio and allowed me to develop my studio team as well as afford the technology that allowed me to prepare for a solo show with prototypes and supplies while simultaneously taking on a number of other projects... Each of the projects I have taken on since the grant have been crucial to the development of my practice and the FCA grant has made this past year's journey slightly smoother.
- Kandis Williams, February 1, 2022
Artist Statement
My practice and pedagogy have always focused on bridging aesthetics and ethics, while considering how isolation and specialization allow racism and other schisms to exist without examination. As an intersectional artist-scholar, my work considers the need for intersectional theorists to bridge gaps between disciplines and discourse, in order to decrypt and develop resistance against the Neoliberal and fascist ideologies that are competing for structural affective and ideological control.
Besides my physical and performance-based output, pedagogy has always been an important part of my broad practice. For a number of years after graduating, I taught classes on video, photo, collage, and bookbinding through many alternative, community-oriented education platforms and non-profits serving primarily underserved students. In more recent years, I have organized countless panels, workshops, and lectures that have aimed to use Black Studies, integrated with ethics and aesthetics, for more dynamic considerations of social consciousness around perceptual tools.
- December 2020
Biography
Kandis Williams is a visual artist whose practice spans collage, performance, writing, publishing, and curating. She explores and deconstructs critical theory around race, nationalism, authority, and eroticism. Her work focuses on the body as a site of experience which is simultaneously being co-opted as a symbol by the spectator. Drawing from philosophical and psychoanalytic writings, Williams explores the accumulation of forced and aspirational social interaction on the body through the lens of the corporeal, the psychological, and the spectacular simultaneously. Placing original, choreographed performances in dialogue with imagery from mainstream pop culture, Williams aims to take back the unconscious associations by which the human body is distorted into a signifier.
Her collages such as The Rivers of Styxx (2018), The Bathers of Acheron (2018), and Disfiguring traditions (2016) often incorporate images from anthropological textbooks alongside images from contemporary advertising, counterculture celebrities, and dance performances and place them in harmonious geometric compositions that belie their philosophical tensions. Williams's choreographed performances carry her research on gesture into contexts which confront and subvert unspoken dynamics of perception in lived experience.
Cassandra Press, Williams's publishing platform, is known for producing anthologies of academic and literary texts organized around charged topics. The press also offers virtual workshops with artists and academics and produces legal documents designed to protect Black artistic producers.
Williams was a featured artist in the Made in L.A. 2020 biennial at the Hammer Museum, Los Angeles, CA and The Huntington Library, Art Museum, and Botanical Gardens, San Marino, CA, where she presented a series of large-scale collages alongside earlier works. In 2020, the Institute for Contemporary Art at Virginia Commonwealth University, Richmond, VA mounted Kandis Williams: A Field, Williams's first institutional solo exhibition which featured a site-responsive installation.
Williams has presented solo exhibitions at Printed Matter, Inc., New York, NY (2020); Cooper Cole, Toronto, Canada (2018); WOP Works on Paper, Vienna, Austria (2017); Night Gallery, Los Angeles, CA (2016); and St. Charles, Baltimore, MD (2016), among others. Her ongoing performance series Eurydice, which spans across the mediums of performance, sculpture, painting, photography, and collage, was the subject of an editorial feature in Artforum (2020).