Kate Valk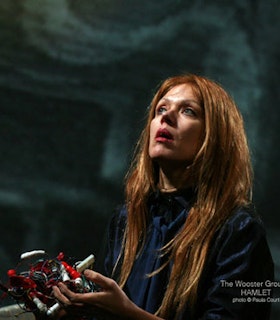 The FCPA grant was an incredible boom to me personally and professionally. I was thrilled and humbled to have my work recognized by other artists who I have such deep respect for. The acknowledgement from the community of artists that I am fortunate to be a part of was an inspiration to me and renewed my dedication to my life as a theater artist.
- Kate Valk, March 2, 2005
Artist Statement
In the past I have worked in such a way that I would know as soon as possible what shoes I would wear, what face, and what clothes. Let's call it a mask.
There are all these mechanisms that involve negating a negation to make it possible to have something real in the odd space that a theater is. In the case of masks, for instance, you can negate your "self" by putting the mask on, which allows you to step outside yourself and look at it. Then, by a simple but elusive method you can negate the "looker," who clearly doesn't exist separate from the mask. In this way the mask becomes flesh and blood with a consciousness that is real, or, a self, in the terms exacted by the theater.
When someone tells me to be myself I draw a total blank, but I have been interested recently in seeing how close I can get to having the mask become invisible, to see what kind of self occurs, maybe obliging Jack Smith's request, "If you have nothing to do, will you please do it on stage."
- 2005
Biography
Kate Valk is an actress working in experimental theater productions. For over thirty years, she has been performing internationally in roles she has created with The Wooster Group.
Valk joined The Wooster Group in 1979, assisting the group's director Elizabeth LeCompte on everything from making props and costumes to transcribing and editing texts. In 1981, she performed her first Wooster Group role in Route 1 & 9, a version of Thornton Wilder's Our Town. Since that time, she has had a formative role in the creation of 25 full Wooster Group theater productions. Valk's Wooster Group portrayals include performances in L.S.D. (... Just the High Points...) (1984), based on Arthur Miller's The Crucible, and Brace Up! (1991, 2003) from Chekhov's Three Sisters. She was featured in House/Lights (1998, 2005), based on Gertrude Stein's Dr. Faustus Lights the Lights, and Eugene O'Neill's The Emperor Jones (1993, 2006).
Valk's 2003 Grants to Artists award supported The Wooster Group's Hamlet (2007), in which she played Gertrude and Ophelia. Valk's 2003 FCPA grant funds also supported her role in Poor Theater (2005). Additionally, Valk and The Wooster Group have produced four video features, an opera, three radio shows for BBC-3, the film Wrong Guys (1995-1997), a CD of songs from the Group's To You, The Birdie! (Phèdre) (2002), and the interactive video installation There Is Still Time... Brother (2007). Valk directed The Wooster Group's Early Shaker Spirituals, which premiered at St. Ann's Warehouse in Brooklyn in 2015.
Prior to her 2003 Grants to Artists award, Valk had received an Obie Award for Sustained Excellence in Performance (1998) and a New York Dance and Performance "Bessie," Award for Outstanding Performing with The Wooster Group (2002).
Valk attended New York University's Tisch School for the Arts and studied with Stella Adler. In 2012, Valk functioned as Associate Director to Elizabeth LeCompte for The Wooster Group's collaboration with the Royal Shakespeare Company on Troilus and Cressida, as part of the World Shakespeare Festival. In 2014, Valk directed the Wooster Group's Early Shaker Spirituals: A Record Album Interpretation. Valk founded two arts education programs with The Wooster Group, including an in-school theater curriculum at Dr. Sun Yat Sen Middle School in Chinatown that was launched in 1992. The Wooster Group's Summer Institute, a free three-week workshop for public high school students, began in 1997. Valk serves as the director emerita of both these programs.