Katie Peterson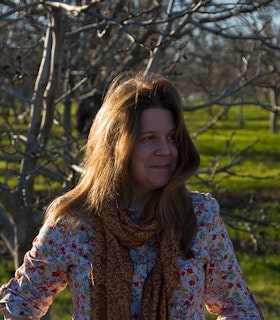 ... Such an unrestricted award is unprecedented in my young life as an artist. The opportunity to work independently—the time and space—that the award has generated thus far have already enabled me to produce work that I am certain will be of great significance to my career...
- Katie Peterson, December 15, 2011
Artist Statement
In recent years, I have written about landscape and the American West. I have been interested in the vulnerability and exposure of the human person living in such a landscape. I suppose I have been interested in vulnerability and exposure as much as in landscape itself.
When I am writing, vulnerabilities—states of fear and shame that cannot be endured in life—begin to seem pleasurable out of necessity. The hope is to give them form.
I like a poem that feels logical but is not—a poem in which thinking takes the shape of a hallucination. I like a poem in which all of my intelligence fails. I am forced to use other tools: desire, anger, recklessness. I pursue beauty and memory not to preserve them but to try, against odds, to preserve that perishable pursuit.
- December 2010
Biography
Katie Peterson is the author of three collections of poetry, This One Tree (2006), Permission (2013), and The Accounts (2013). Peterson's lyric poems explore both interior and exterior landscapes and often focus on exposure and shelter. Peterson has stated of her work, "A poem is a place… it does not describe a place."
Her poems and reviews have appeared in the American Poetry Review, the Boston Review, Gulf Coast, Third Coast, and many other publications. With funds from her Grants to Artists, Peterson was able to fund a research project on happiness in Europe, and transform her travel experience into a new book, subsidize a new apartment, and pay for dental work.
Following her 2011 FCA support, Peterson's collection The Accounts won the 2013 Rilke Award from the University of North Texas. Prior to her Grants to Artists, Peterson received a New Issues Prize for Poetry (2006), a Summer Literary Seminars Fellowship, St. Petersburg, Russia (2007), an Alan Collins Fellowship from the Bread Loaf Writers' Conference (2008), and an Evelyn Green Davis Fellowship from the Radcliffe Institute for Advanced Study (2009-2010).
Peterson received a B.A. from Stanford University (1996), and a doctorate from Harvard University in English and American Language and Literature (2006), where she wrote a dissertation on Emily Dickinson that was awarded the Howard Mumford Jones Prize. She has taught at Deep Springs College in rural Inyo County, California, Bennington College, Vermont; and Tufts University, Boston. Peterson teaches at the University of California at Davis where she joined the faculty in January 2015.