Kay Ulanday Barrett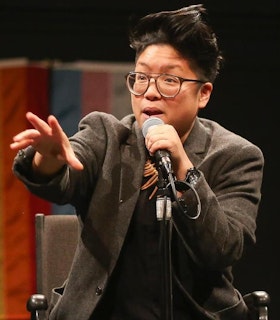 Artist Statement
How does poetry center collective movement and accessibility beyond borders? Poetry, as strategy, method, and salve, aims for jubilation and liberation. I seek syntax—in writing and across media—that uplifts diaspora, savvy, and political art from my communities and ancestors in overlap. This dialectic engages queer and transgender love and disabled isolation in flux. I am pushed by parameters made in spasms, window sill sunsets, parched protest chants, and altars of legacy maybe not academic, but definitely profound. I hope for revelations from my graveyard shift single mama, forlorn kundimans, and body minds with a wobbly reach, people who swerve using canes, nonlinear spirits, immersive incantations, those who scavenge for archives that could be wayward and wonderful. I am dedicated to loving ghosts and the ancestors who became them. How grief channels and incites patterns in Filipinx and transgender lives. By capturing narrative, lyrical poetic, and performance forms, I aim to contribute to a re-imagining and resistance. I hope for exhilaration in multitudes that exists within already. I revel in hybrid. I explore the sonic and textual vernacular of rice cookers, seafood sold at a bargain, and whatever rhythms feel like memory, dreams, renewal, recipe, and home.
- December 2021
Biography
Kay Ulanday Barrett is a poet, performer, essayist, and cultural strategist, navigating life in the United States as a disabled, Filipinx-amerikan, transgender queer. Working across language and collective strategy, their practice engages cultural studies, transgender liberation, critical food studies, climate and eco-poetics, and disability justice.
Ulanday Barrett's second poetry collection More Than Organs (Sibling Rivalry Press, 2020) dissects the concept of wholeness in search of more fluid terms that can express transient and transforming identities. The book bridges hungers and hurts both physical and emotional: drawing, at one point, upon family recipes for sustenance and comfort and, at another, reflecting upon the Pulse shooting of 2015. More Than Organs was named a Stonewall Honor Book in Literature by the American Library Association (2021) and a Lambda Literary Award Finalist for Transgender Poetry (2021).
Ulanday Barrett's writing has been published by The New York Times, The Asian American Literary Review, F(r)iction, and Apogee Journal, among others. They have contributed to anthologies, such as Q&A: Queer & Asian in North America (Temple University Press, 2020), Home Is Where You Queer Your Heart (Foglifter Press, 2020), Disabled People (Shades of Noir, 2020), and Subject to Change (Sibling Rivalry Press, 2019).
Ulanday Barrett has presented work at The Geraldine R. Dodge Poetry Festival, Newark, NJ (2020); Poets House, New York, NY (2020); Boston Book Festival, Cambridge, MA (2019); The United Nations, New York, NY (2019); Lincoln Center for the Performing Arts, New York, NY (2017); and The Brooklyn Museum, Brooklyn, NY (2009).
They have received a James Baldwin Fellowship from MacDowell (2020), as well as fellowships from Monson Arts (2019), VONA Voices (2018), Macondo (2018), Lambda Literary (2018, 2017), and Drunken Boat (2016). They are the recipient of grants from The artEquity Artist + Activist Community Fund (2020), Disability Visibility Book Circle (2020), The Shade Literary Arts Queer Writers of Color Relief Fund (2020), and The Center for Cultural Power (2020).
Ulanday Barrett holds a B.A. in Gender and Women's Studies from DePaul University. They host and curate the Mouth to Mouth showcase at The Asian American Writers' Workshop.