Kevin Drumm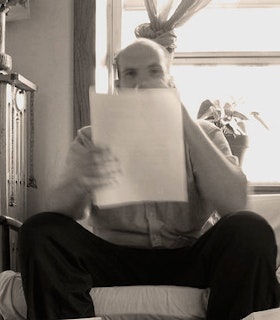 The grant helped me do something I haven't in a long time, which is tour—particularly Europe... I rediscovered the joy of traveling, playing gigs (even bad ones), meeting new people, and old friends... It was a huge break for me and it couldn't have come at a better time.
- Kevin Drumm, January 2013
Artist Statement
I work primarily with electro-acoustic music/sound, exploiting any and all frequencies and tools (analog/digital), micro/macro/monotony/chaos/everything/nothing...
- December 2010
Biography
Kevin Drumm is a musician, sound artist, and avant-garde tabletop guitarist. The artist experiments with prepared guitar, applying objects including magnets, binder clips, chains, a violin bow, and even toenail clippers to distort the instrument's sound, melding the worlds of acoustic and electronic sound.
Drumm made his solo debut with a Kevin Drumm (1997) and has since released over 30 records. Selected solo albums include Land of Lurches (2003), Snow (2008), and Necro Acoustic (2010). Drumm has also collaborated on duo records with Taku Sugimoto (2001), Axel Dörner (2001), Ralf Wehowsky (2002), and Jason Lescalleet (2014). Drumm has recorded and performed with Phill Niblock, Tony Conrad, Jim O'Rourke, MIMEO, Mats Gustafsson, John Butcher, and Thomas Ankersmit.
Prior to his 2011 Grants to Artists, Drumm received two Honorable Mentions from Prix Arts Electronica (2000, 2002).