Kim Brandt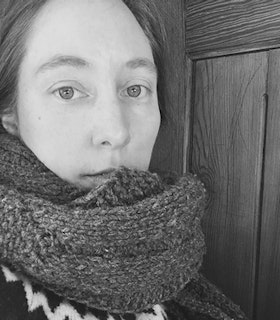 Your gift provides the invaluable support to work and work and work—to work consistently, deeply, freely and fastidiously. It offers a state of mind where I might give myself permission to feel stability, or locate a way back into the work when feeling derailed by the roadblocks. It moves me daily that the nature of the Foundation and award is to invest in such a generous system of support. I am stunned by the care artists can provide one another—it is a particularly unique and meaningful gesture.
- Kim Brandt, December 15, 2017
Artist Statement
Choreography is a way for me to investigate how one relates to their environment, one's connection to others in a given space, and the passing time that defines those relationships. Approaching the body as a material that passes through the mediums of space and time, I create movement scores for dancers to proliferate tones, surfaces, and landscapes. By seeking a creative impetus that is divorced from spectacle, entertainment, or a desire to be seen, I want to explore our physical, spatial, and symbiotic relationship to place. A somatic exploration of togetherness, I consider how we can work not in unison but as a whole—a sum that isn't greater than its parts but that creates another organism. A spatial and temporal occupation, installation, or intervention emerges out of ephemeral experience, and I'm wondering how gravity, duration, and environment guide motion toward inertia.
- December 2016
Biography
Kim Brandt's work in choreography asks motion to answer questions about how a body can be, and explores how a coming together can alter the tone of our environment. Her "smart, affecting, weird-form dances never take for granted the bodily habits or functional protocols of modern choreography and its users." (David Velasco, Artforum)
Brandt's 2017 Grants to Artists Award supported the development of Problems (MoMA PS1, 2018). Her works prior to her FCA support include Untitled (Kitchen) (The Kitchen, New York, 2014); Silhouette (Ice Box Gallery, Philadelphia, 2015); Landscapes (Audio Visual Arts Gallery, New York, 2015); Untitled (Artists Space) (Artists Space, New York, 2015); Clear Night (Pioneer Works, Brooklyn, 2016); and The Volume (SculptureCenter, Long Island City, 2017). She has also performed the work of Ryan McNamara (MEEM) and Walter Dundervill (Skybox).
Brandt was an Artist-in-Residence at ISSUE Project Room (2015); Movement Research (2016-17); and was a Fellow at the Bogliasco Foundation (2016). She is the recipient of THE AWARD: NYC (2015), and the Jerome Foundation Travel and Study Grant (2016), which was used to research the work of Robert Smithson, Nancy Holt, Michael Heizer, and Walter de Maria.
Brandt received her B.A. from Hampshire College and her M.F.A. in Sculpture from the Tyler School of Art.