Kimsooja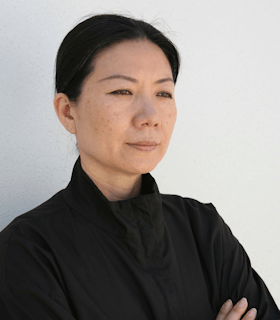 It was an honor to be chosen to receive the 2007 FCA grant. I very much appreciated being associated with the organization, and being able to create a new piece with this support.
- Kimsooja, January 9, 2008
Artist Statement
Adressing issues of the displaced self and others, Kimsooja's work combines performance, video, photo, and site-specific installation using sound, light, and specific Korean bedcovers. With the eyes of a mirror and a needle that reveals and brings us to an awareness of self, Kimsooja investigates questions concerning the conditions of humanity, while engaging issues of aesthetics, culture, politics, and the environment we live in. Kimsooja brings together a conceptual and a structural investigation of performance, installation, video and photography, as well as painting, drawing and sculpture, through an exploration of materiality/immateriality, mobility/immobility, in a manner of non-making and non-doing, that inverts the notion of the artist as the predominant actor. Taking us on her journey that evolves with the continuous unfolding of her concept of Bottari (Korean word meaning bundle) and the notion of Needle and Mirror, Kimsooja's work invites us to question our existence, the world, and the major challenges we are facing in this era.
- December 2014
Biography
Kimsooja is a conceptual artist whose work involves performance, video, photography, light, sound, and installation. She interrogates these forms structurally and conceptually and seeks to displace the role of the artist as sole creator. Central to her work is an evolving understanding of the Korean word "bottari," brightly covered bed covers tied in a bundle that symbolize different stories, as a concept.
Prior to her 2007 FCA grant, Kimsooja had been featured internationally in the 1st Kwangju Biennale (1995), 5th Istanbul Biennale (1997), 24th São Paulo Biennale (1998), 11th Biennale of Sydney (1998), 5th Biennale de Lyon (2000), 71st Whitney Biennial (2002), and 2nd Valencia Biennale (2003); her work has been the subject of solo exhibitions at Kunsthalle Bern, Switzerland (2001); Kunsthalle Wien, Austria (2002); and Museo Nacional Centro de Arte Reina Sofia, Spain (2006). In 2001, she first showed A Needle Woman in its completed form at MoMA PS1 and Kunsthalle Bern in Switzerland. Kimsooja's 2007 Grants to Artists Award supported a project titled Mumbai: A Laundry Field, a three-channel synchronized video projection shown at Kewenig Gallery, Cologne (2007); Continua Gallery, Beijing (2008); Continua Galery, Les Moulins (2009); Feldkirch Church, co-organized by Kunstmuseum Lichtenstein (2010); and Sullivan Gallery, School of the Art Institute of Chicago (2011).
Since receiving her 2007 FCA grant, Kimsooja's work has been the subject of solo exhibitions internationally at BOZAR, Brussels (2008); Hirshhorn Museum (2008); Baltic Center, United Kingdom (2009); Feldkirch Church, Lichtenstein (2010); Miami Art Museum (2012); Perm Contemporary Art Museum, Russia (2012); Kunsthal 44 Møen, Denmark (2012); Musée d'Art Moderne de Saint-Etienne, France (2012); and Vancouver Art Gallery, Canada (2013). In 2013, Kimsooja created an immersive mixed-media installation entitled To Breathe: Bottari for The Korean Pavilion at the 55th Biennale di Venezia. She turned the focus of the exhibition to the pavilion itself by wrapping the interior with a translucent film that diffracted the sunlight entering through the windows to produce rainbow light spectrums. Her work has also been featured in the 2nd Tessaloniki Biennale of Contemporary Art (2009), 3rd Moscow Biennale (2009), 55th Biennale di Venezia (2013), and Cornell University Biennale (2014).
Subsequent to her 2007 FCA grant, Kimsooja was awarded a New York State Council on the Arts Grant (2008), a CEC ArtsLink grant (2012), and a John Simon Guggenheim Memorial Foundation Fellowship (2013). Prior to receiving her 2007 Grants to Artists award, she had been recognized with The Korean Culture and Arts Foundation Award (1996), the Whitney Museum's American Art Award (2002), and an Anonymous Was A Woman Foundation Award (2002).
Kimsooja earned a B.F.A. and an M.F.A. in painting from Hong-IK University in Seoul, South Korea in 1980 and 1984, respectively. She has been an artist in residence at MoMA PS1 (1992-1993), the World Views Program at the World Trade Center (1998-1999), Musée d'art contemporain du Val-de-Marne in Vitry-sur-Seine, France (2008), and Cornell University (2014). Kimsooja was a visiting artist at School of The Art Institue of Chicago (2006) and Yale University (2010). She has given artist talks at Cornell University, Parsons the New School for Design, School of Visual Arts, New York University, Rhode Island School of Design, and Pratt Institute.