Klara Lidén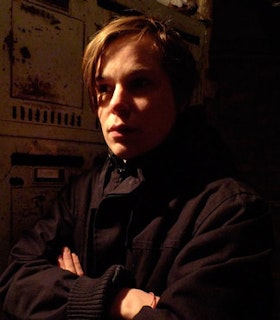 Artist Statement
Part of me is this poor architect dealing with the problem of existing structures in the city, part of me is this amateur dancer or performer who wants to return ideas of rhythm to the activity of building, or of re-appropriating the built environment. Building is also un-building, recycling or improvising new uses for what's already been set up in places like New York, Berlin or Stockholm, whether in a museum or in my own apartment, and the question of re-appropriating privatized, urban space always somehow begins with the body, its ways of moving and the temporalities it engages when it goes to work or opens up spaces of non-work in work. There is an idea of play that prefers not to decide what is and what isn't work, what is and what isn't useful in the activity of building. Use, most of the time, means diverting materials or spaces from their prescribed functions, inventing ways of making these things improper again. Aside from my interventions in galleries and museums, I have done things like set up a year-long, free postal service in Stockholm, built an underground house on city property in Berlin, removed advertisements from downtown areas, made music with my house keys, and moon-walked around Lower Manhattan.
- December 2008
Biography
Klara Lidén creates videos, sculptures, and architectural interventions and installations. Since receiving her 2009 Grants to Artists award, Lidén created Project 89, a site-specific installation at The Museum of Modern Art (2009).
She also presented Bodies of Society, which included site-specific works and videos, at the New Museum (2012).
Lidén has since had solo shows at Reena Spaulings Fine Art (2010, 2012) and at many venues in Europe, including the Serpentine Gallery, London (2010) and the Moderna Museet, Stockholm (2010). Her work has also since been included in group exhibitions at the Danish and Nordic Pavilions at the 53rd International Art Exhibition of the Venice Biennale (2009), Art Berlin Contemporary (2010), Fundació Antoni Tàpies in Barcelona (2011), Museum of Modern Art Belgrade (2013), and the Hermitage Museum (2014). Lidén's work is now in the collections of The Museum of Modern Art, New York; Moderna Museet, Stockholm; and the Astrup Fearnley Museet for Moderne Kunst, Oslo, Norway; among others.
Prior to her 2009 FCA grant, Lidén's work was featured in solo presentations at Reena Spaulings Fine Art (2005, 2006, 2008) and in group exhibitions at Art In General (2004), MoMA PS1 (2006), White Columns (2007), and Gagosian Gallery Madison Avenue (2007).
After receiving her 2009 FCA grant, Lidén received a special mention from the jury of the 54th Venice Biennale (2011), a Carnegie Art Award (2012), and the Prize for Sculpture Moderna Museet (2013). Prior to her 2009 FCA award, Lidén held a residency with the International Artists Studio Program in Stockholm (2008).
Lidén attended the School of Architecture at the Royal School of Technology from 2000 to 2004 and University College of Arts Crafts and Design, Konstfack from 2004 to 2007, both in Stockholm.