Kota Yamazaki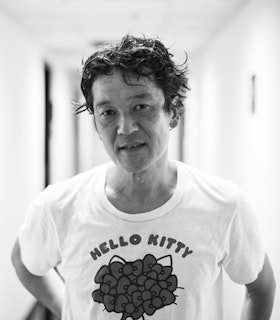 First of all, I would like to express my heartfelt gratitude for giving me this opportunity to conduct my research in preparation for my new project OQ without financial constraints. When one of my previously scheduled performances and workshops was cancelled earlier this year, I was able to stay focused on the artistic development of OQ thanks to the support I received throughout the year from this grant.
- Kota Yamazaki, December 15, 2014
Artist Statement
My dance history is rooted in my early training days in two dance forms—Butoh and classical ballet. My fully improvised dance was fueled by the confusion coming out of these two opposing aesthetics and ideologies. I began choreographing in my thirties after being introduced to contemporary dance in France in the 1980s. Since then, I have been attracted to working with dancers of different cultural backgrounds and dance techniques as well as collaborating with architects and visual artists. Organizing dynamic reactions and fluid and unexpected relationships among these dancers in specifically designed environments has been my passion. I delight in imagining situations in which seemingly contradictory elements coexist—for example—the idea of a rice field with Indonesian farmers in Manhattan. Discovering harmony in such unexpected relationships is exciting to me. Exploring movements initiated by a thousand points on the feet and subtle vibrations in the body are also used to connect individuals organically in my choreographic works.
What choreographers have achieved throughout history may not be so significant if viewing this world from a longer perspective—perhaps a few hundred years. Nevertheless, I am still hopeful that I will find something significant to pass on to future generations.
- December 2012
Biography
Kota Yamazaki is a dancer, choreographer, and costume designer. In 2002, Yamazaki founded his troupe Kota Yamazaki/Fluid Hug-Hug. Yamazaki believes that a person is fluid and has to keep flowing so people of different backgrounds can have freer exchange. The name Fluid Hug-Hug "came from this idea of fluidity and meeting people from all over the world." On each project, performers from different cultural backgrounds or who have undergone different training gather and exchange their own practices, references from their own cultural backgrounds, and various movement languages with one another while learning Yamazaki's somatic practices and approaches to movements.
Kota Yamazaki/Fluid Hug-Hug has been invited to perform at national and international venues such as Danspace Project, 92 Street Y, Dance Theater Workshop, Harkness Dance Festival, Portland Institute of Contemporary Art's Time-Based Art Festival, The Andy Warhol Museum, Painted Bride Art Center, Miami Light Project, the Dance Center at Columbia College Chicago, Melbourne International Arts Festival, and Globalize: Cologne. With the support of his Grants to Artists award, Kota Yamazaki/Fluid Hug-Hug premiered OQ at Japan Society in June 2015.
Yamazaki was first introduced to Butoh in 1977 through the teaching of Akira Kasai and began ballet training under the late Hirofumi Inoue in 1981. He received a B.A. from Bunka Fashion College in Tokyo and was the artistic director of a Tokyo-based dance company, rosy co., from 1996 through 2001. Yamazaki has been invited to teach at universities, festivals, and communities around the world, including Barnard College, Bennington College, Columbia College, Chicago; Mount Holyoke College; the National University of the Arts, Korea; and Yotsuya Arts Studium at Kinki University in Japan. Since 2009 he has organized Whenever Wherever Festival, an experimental dance festival for body-based artists in Tokyo.