Krzysztof Knittel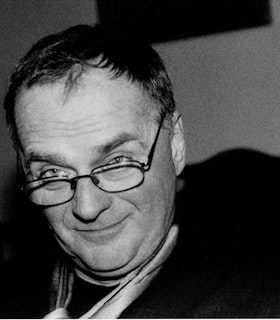 The grant from the Foundation was a wonderful surprise for me and it came in a very important moment... Thanks to the grant I would spend all other money which I earned in 1999... on the costs of living and I could devote a lot of time to composing the opera [The HeartPiece – Double Opera, a chamber opera composed with John King].
- Krzysztof Knittel, February 17, 2000
Artist Statement
I write works for orchestras and chamber ensembles, I play in many improvisational music groups, I build sound installations, and take part in different art and sound performances—most of the time as a musician playing live electronics with other musicians who play acoustic instruments, or with visual artists. The principle of collaboration is to go beyond the limits of the categories of art, to associate what we see (objects, gestures) with musical actions. This also means avoiding sound illustration... You have to trust your partner, just as if you were mountain climbing or scuba diving. Polyphonic thinking, parallelism, and simultaneously working on several threads have long been familiar to me. As a writer and painter Stanislaw Ignacy Witkiewicz wrote, "The basic factor of a deeper esthetic satisfaction is the integration of a multiplicity into a unity; that is what the understanding of an artwork relies on." Zones of sound multiply in the unity of a musical artwork… In the case of performances with a visual artist, there are larger parts of heterogeneous zones of audio and visual phenomena—a parallel of events and meanings come as a result—sometimes intentionally, sometimes by chance.
- 2014
Biography
Kryzysztof Knittel composes symphonic, choral, chamber, stage, electroacoustic, and computer works for ballet, theatre, and film, and he also creates sound installations.
Knittel's FCPA-supported The Heartpiece – Double Opera (1999), is based on the text Hertzstück (1983) by Heiner Müller. Composed in collaboration with John King, the opera's music follows the theme of dichotomy—traditional operatic singing answers improvised settings, and electronic sampling responds to string quartets. The work premiered at the Warsaw Autumn International Festival of Contemporary Music and was subsequently performed at The Kitchen. Knittel's music has been featured at festivals including the International Society for Contemporary Music World Music Days, Paris and Zagreb; Fylkingen, Stockholm; Living in a Virtual World, Toronto; Experimentelle Musik Festival, Munich; Experimental Intermedia, New York; Pan Music Festival, Seoul; Festival International de Musique Experimentale, Bourges; Ton-Art, Berne; and Alternativa, Moscow.
Knittel's work has been performed and installed throughout Europe, as well as Asia, North America, and South America. These presentations include concerts devoted exclusively to his music in Brazil, the Czech Republic, Spain, Germany, Russia, and Hungary. His discography includes over fifty records. Knittel has been commissioned by many soloists, the National Philharmonic Orchestra, the National Polish Radio Symphony Orchestra, the Amadeus Chamber Orchestra of Polish Radio, Sinfonia Varsovia, the Polish Radio Orchestra, and the Camerata Silesia Singers' Ensemble.
Following his 1998 FCPA award, Knittel recieved the Award of the Polish Composers' Union (2003), the Cyprian Kamil Norwid Artistic Award (2003), the Silver Medal for Merit to Culture – Gloria Artis (2005), a Guardian of National Remembrance Sites Gold Medal (2005), and the "Cultural Merit" Badge (2007). Previous to receiving his Grants to Artists award, Knittel received the Solidarity Prize for his String Quartet (1985).
Knittel attended Darmstadt New Music Courses with Iannis Xenakis and Christian Wolff, among others. Knittel also studied sound engineering and composition at the Fryderyk Chopin University of Music in Warsaw, where he began teaching in 2010. Knittel has taught at the SUNY, Buffalo, and the Music Academies in Lodz and Krakow. He is the co-founder of the KEW Composers Group, the European Improvisation Orchestra, and the Independent Electroacoustic Music Studio. As a journalist and critic, he contributed to the periodicals Tygodnik Literacki, Ruch Muzyczny, and Studio, and was a freelance writer for Polish Television's weekly arts features and classical music departments. From 1999 to 2003 he was the president of the Polish Composers Union, and, since 2005, has served as president of the Polish Music Council.