Laetitia Sonami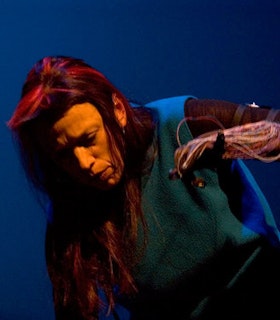 Artist Statement
Since 1976 I have pursued my interest in the fields of electronic music and technology as it applies to performance. My main interest has been in developing ways to use new technology in live performance and create environments which engage the audience and reveal the magic embedded in these (sometimes very frustrating) tools.
I compose with electronic sounds from existing equipment and from electronic instruments I build, together with natural sounds from every day life, and sounds from discarded mechanisms.I often use a narrative element in my compositions. These stories are written by Melody Sumner Carnahan and represent facets of a woman's life. For the past few years I have been using the "lady's glove," a very feminine controller studded with sensors which I designed, and which allows me to control the sonic environment with the movement of my body. This ability to affect the sounds while I narrate allows me to become a wired storyteller. Lately I have been interested in mechanically animating iconic objects such as light bulbs and bags and embedding them with sounds, thus allowing them to mirror the silent thoughts we project onto them.
- 2001
Biography
Laetitia Sonami is a composer, performer, and sound installation artist. Sonami's sound installations combine audio and kinetic elements embedded in ubiquitous objects such as light bulbs, rubber gloves, bags, and toilet plungers. She also collects electrical wires and embeds them in walls. Sonami's compositions combine text, music, and "found sound" from the world. Her signature instrument, the Lady's Glove, is fitted with a vast array of sensors that track the slightest motion of her dance: with it Sonami can create performances where her movements shape the music, and in some instances, visual environments.
With support from her 2000 Grants to Artists award, Sonami presented presented the installation BAGS at New Langton Arts in San Francisco in 2001. She has performed in numerous festivals, including Ars Electronica Festival, Linz, Austria; Bourges Music Festival, France; Sonambiente Festival, Berlin; Interlink festival, Japan; Bang-on-a Can at The Kitchen; and Other Minds, San Francisco.
Since her 2000 Grants to Artists award, Sonami has received a Studio Pass-Harvestworks residency (2001), and a Herb Alpert Award in the Arts (2002).Prior to her 2000 FCPA grant, her awards included a Civitella Ranieri Fellowship (1999) and a Creative Work Fund Award (2000) for BAGS, a collaboration with Nick Bertoni and the Tinkers Workshop.
Sonami studied with Eliane Radigue, Joel Chadabe, Robert Ashley, and David Behrman and received an M.F.A. from the Center for Contemporary Music, Mills College in 1980. She is a guest lecturer at the San Francisco Art Institute and the Milton Avery M.F.A. program at Bard College. She attempts to familiarize students with adapting old technologies and new media to the creative process and thus expand their field of imagination and play.