Lamin Fofana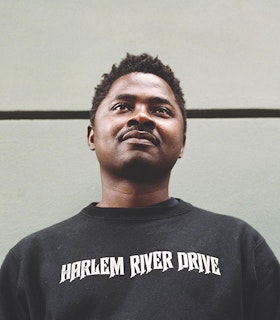 The ongoing catastrophe of the pandemic slowed down everything, practically bringing all live performances and public engagements I had planned to a grinding halt or postponed indefinitely. The FCA grant lightened my financial burden and provided a form of security at a time of increased uncertainty. Having this form of financial security for an entire year allowed me to focus and devote time and attention to the most important aspect of my practice: learning.
- Lamin Fofana, December 26, 2021
Artist Statement
My current project uses music as a conduit for engaging with an array of issues involving blackness, migration, displacement, and race through collective listening and performance.
- December 2020
Biography
Lamin Fofana is an artist and musician whose music contrasts the reality of our world with what is beyond and explores questions of movement, migration, alienation, and belonging. Fofana's overlapping interests in history and the present and his practice of transmuting text into the affective medium of sound manifest themselves in multisensory live performances and installations featuring original music compositions, field recordings, and archival material.
Fofana's work frequently engages with complex issues of geopolitical power, stemming from his experience growing up in Sierra Leone in a polyglot family, attending high school and college in the United States, and living in Berlin as an adult. In WITNESS, presented at the 57th Venice Biennale, he created a soundwalk using music/sound-design and field recordings to respond to an incident in 2017 involving Pateh Sabally, a 22-year-old refugee from Gambia, who committed suicide by drowning in a Venice canal while tourists jeered at him and filmed his death.
Fofana's releases include the album trilogy Black Metamorphosis (2019), Darkwater (2020), and Blues (2020). In Black Metamorphosis he addresses the experiences of African migrants in Europe and America who are forced into the margins where they must find new ways to relate to people and the world. The work is inspired in part by Sylvia Wynter's unpublished manuscript from the 1970s of the same name.
His exhibitions and performances include BLUES at Mishkin Gallery, New York, NY (2020); Fugitive Dreams at Akademie Schloss Solitude, Stuttgart, Germany (2019); WITNESS at the 57th Venice Biennale, Italy (2017); and DJ performances at documenta 14, Kassel, Germany and Athens, Greece (2017). In 2020 Fofana received the Akademie Schloss Solitude Fellowship in Stuttgart, Germany and was awarded a residency at Urbane Künste Ruhr in Bochum, Germany. He received a B.A. from Hunter College, CUNY.