Lance Gries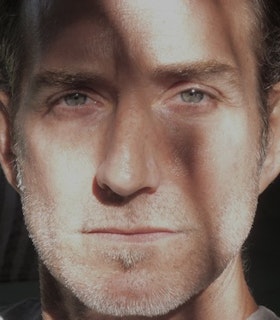 After many years of not creating or presenting new work in New York City, I had recommitted myself to being a NY artist and had just finished two years on a dance video project; I had also just made an agreement with Danspace Project at St. Mark's Church to present my first full evening of live choreography in fifteen years… The grant money, and its quick availability, began immediately to be directed to this new dance, which was eventually titled: IF Immanent Field and presented at Danspace Project…
- Lance Gries, December 12, 2014
Artist Statement
I am inspired by the momentous convergence happening between theoretical physics, metaphysics, philosophy, neuroscience, and the wealth of body/mind practices that are bringing new awareness and understanding to the interconnectedness between material reality and human consciousness. My work is based in a belief that dancers are deeply connected to these mysterious yet universal inquiries, and our art form should be part of that dialogue.
Each work's vocabulary and formal investigations are attempts at bringing these insights into a physical form that simultaneously operates as a research model, a shared practice, and above all, a dance performance.
- December 2013
Biography
Lance Gries is an independent dancer, choreographer, and teacher. From 1985 to 1992 he was a member of the Trisha Brown Dance Company. Since 1990, he has created and presented solo and group choreography in New York and around the world. In celebration of his fiftieth birthday, Gries created The FIFTY Project where he invited fifty dancers from around the world to meet him in a fifty-minute open dance. A video installation of these improvised meetings was presented in 2013 at La MaMa Galleria and supported with a Special Project Grant from the Princess Grace Foundation.
Gries's solo and group choreography has been presented at various venues in New York City including The Kitchen, Danspace Project at Judson Church, La MaMa E.T.C, the David H. Koch Theater at the Lincoln Center, as well as in cities throughout Europe, Australia, and South America.
Subsequent to his 2014 FCA support, Gries's project IF Immanent Field was presented at Danspace Project in 2014, and was supported in part by the New York Live Arts Studio Series, and a Gibney Dance in Progress residency. Prior to his 2014 Grants to Artists award, Gries received a 1989 New York Dance and Performance "Bessie" Award for Outstanding Performer 1989. His 2011 work Etudes for an Astronaut was nominated for a "Bessie" Award for Best Production. Gries was also a part of the 2013-2014 Danspace Project Commissioning Initiative with support from New York State Council on the Arts.
Gries has taught workshops and master classes around the world. In 1994, he was invited to be a Founding Teacher of P.A.R.T.S. International School for Contemporary Dance in Brussels, Belgium. Gries is a guest teacher for many other dance companies, universities, and institutions. He received a B.F.A. from SUNY Purchase.