Larissa Velez-Jackson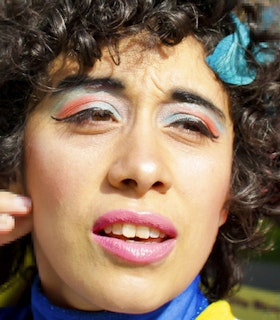 I received this award upon my 10th year of presenting work in New York City and there could not have been a better anniversary reward for my efforts. Throughout all of 2016, I have undertaken numerous residencies toward the development of my largest work to date... Yackez: Give It To You Stage. Yackez is a collaboration between my husband and I (myself as the choreographer and front woman and he as writer, musician and hype man) to create an alternative family pop band. Backing our band is a Queer ensemble of six dance-wrestlers and a chorus of 13 dance-exercisers from my senior fitness classes.
- Larissa Velez-Jackson, December 19, 2016
Artist Statement
I am a choreographer working across diverse mediums to create a deep, inclusive, and often humorous reflection of our time together on the planet. My compositional practice centers on improvisation as a platform for discovery. Through the performance state, I explore the multi-tasking and interdisciplinary capabilities of the body. I work in different mediums where I am untrained to expose the friction between amateurism and virtuosity that is inherent to artistic innovation. This exploration inevitably creates new skill sets. I work with increased proximity to the viewer in an attempt to increase intimacy and expand this established relationship. Humor is an inherent by-product of this work. Through nonsensical operations I embrace a chaos that questions moral and cultural norms and achieves formal dissonance. I propose Dance as a model for deepening human connection created for and in partnership with the audience.
- December 2015
Biography
Larissa Velez-Jackson is a choreographer and hybrid artist who uses improvisation as a main tool for research and creation, focusing on personhood and the dancing/sound-making body. She employs a deep humor to grant audiences universal access to contemporary art's critical discourse. In 2011, she launched a song-and-dance collaboration with her husband, Jon Velez-Jackson, called Yackez, "The World's Most Loveable Musical Duo." She is also the Artistic Director of the LVJ Performance Co.
After receiving her 2016 Grants to Artists award, Velez-Jackson premiered Give It To You Stage (2017) at New York Live Arts, New York. Prior to her FCA support, Velez-Jackson's works were performed widely in New York City, including Making Ends Meet, at soloNOVA Arts Festival, Performance Space 122 (2007); Response time with help her out/take 357, a collaboration with Hilary Clark, at Dance Theater Workshop's Fresh Tracks (2009); Star Crap in Progress, at The New Museum (2011); Yackez Stage Show, a collaboration with Jon Velez-Jackson, at Public Assembly, Brooklyn (2012); S.P.E.D. the BX, at THE POINT Community Development Corporation, Casita Maria Center for Arts & Education, Bronx Academy of Arts and Dance (2014); and Star Crap Method, which premiered at The Chocolate Factory Theater (2014). Velez-Jackson has also presented work at other New York City venues including Roulette, the Museum of Art and Design, Danspace Project, American Realness festival, and the Prelude Festival, Martin E. Segal Theater Center, Graduate Center of the City University of New York.
Velez-Jackson was a Movement Research Artist-in-Residence (2012-2013), a Seniors Partnering with Artists Citywide artist-in-residence with the Lower Manhattan Cultural Council (2013), an El Museo Del Barrio Artist in Residence (2014-2015) and most recently a Live Feed artist-in-residence at New York Live Arts (2015-2016). In 2012 she attended the danceWEB Scholarship Program of Impulstanz Festival with the support of a Jerome Foundation Travel and Study Grant.
Velez-Jackson graduated with a B.F.A. from University of the Arts in 1998.