LaTasha N. Nevada Diggs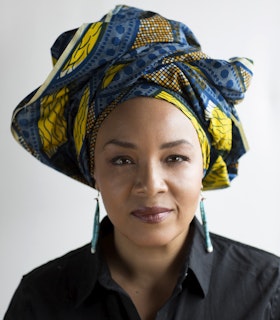 To be given such an award named after the late C.D. Wright was a deeply gift you granted me. There is so much to write and create to even begin to match the magnitude of Wright's legacy. It affirmed so much and told me to stay on the path. For that, I am honored and humbled by this gesture.
I am one of three remaining tenants in a building that acquired new ownership three years ago. They want a reason to evict me. The FCA award prevented that. I could pay my utilities. I could buy groceries. I could help out some younger artists with some cash. I could pick up some items for elders in my neighborhood. I could donate to some causes happening elsewhere in the country. I am now slowly returning to a manuscript and am using a portion of the grant towards a workspace downtown. It took time to make that decision, thus, the blessing of this grant minimize a lot more than just stress and worry. It maintained me. Gratitude in 2020 became the absolute mantra. Gratitude for this grant reminds me how blessings come when you least expect it.
- LaTasha N. Nevada Diggs, January 14, 2021
Artist Statement
My love for the mishaps when at play with multiple languages is obvious. Even when one questions why I do what I do how dare I, this dance through sound, place and memory is where I naturally tweet like Tweet. Won't stop. Oops. Can't stop. What is not always obvious is my personal questioning of self, of this body my essence wears, of a past and present that is searching. It is how I teach myself the histories of those who may or may not have been the victor. Call it Hip-Hop. Or when a cassette gets chewed up in the player. Or what happens when I question the rue. Like any mess of beans with salt thrown in too quickly, the risk of getting it wrong eventually gets it right. Don't stress the technique. What and who I am, my origins and ancestries, are always underneath/above the blanket being woven. I respond and explore the sonic, visual, and textual vocabularies I am drawn to. And what I often dream, learn, forget, mourn, celebrate. In search of somewhere, in this stew, I am at home here.
- December 2019
Biography
LaTasha N. Nevada Diggs is a poet and sound artist. Her multilingual work addresses themes of global inequality, displacement, and forced migration.
Diggs's first full-length collection of poetry, TwERK, was published by Belladonna* in 2013. She self-published the chapbooks Ichi-Ban: from the files of muneca morena linda (MOH Press, 1998) and Ni-Ban: Villa Miseria (MOH Press, 2001), and the album, Televisíon (MOH Press, 2002).
Her work has appeared in anthologies including Freely frayed: Translingual Poetics (hochroth publishers europe, 2019); Letters to the Future: Black Women/Radical Writing (Kore Press, 2018); The Golden Shovel Anthology (University of Arkansas Press, 2017); The Break Beat Poets: New American Poetry in the Age of Hip Hop (Haymarket Books, 2015); The Force of What's Written: Accessibility & The Avant Garde (Night Boat Books, 2014); Me No Habla With Acento: Contemporary Latino Poetry (Rebel Satori Press, 2011); Gathering Ground: A Reader Celebrating Cave Canem (University of Michigan Press, 2006); and Everything But the Burden (Broadway Books, 2003). She has been published in magazines and journals including: Arroyo Review, Art21 Magazine, Black Renaissance Noire, Coldfront Magazine, Fence, jubilat, Mandorla: New Writings from the Americas, The New Sound: An Interdisciplinary Journal of Arts and Literature, and Ploughshares.
Diggs has presented and performed at California Institute of the Arts, El Museo del Barrio, The Museum of Modern Art, and Walker Art Center and at festivals including: Explore the North Festival, Leeuwarden, Netherlands; Hekayeh Festival, Abu Dhabi; International Poetry Festival of Copenhagen; Poesiefestival, Berlin; and the 2015 Venice Biennale.
As an independent curator, artistic director, and producer, Diggs has presented literary and musical events for BAMCafé, Black Rock Coalition, El Museo del Barrio, Lincoln Center Out of Doors, and the David Rubenstein Atrium. As a vocalist, she has worked with Guillermo E. Brown, Rashida Bumbray, Burnt Sugar, Gabri Christa, Malik Gaines and Alexandro Segade, DJ Logic, Lisa E. Harris, Vijay Iyer, Val Jeanty, Mike Ladd, Paloma McGregor, Mendi + Keith Obadike, Vernon Reid, Towa Tei, and Edwin Torres.
Diggs has received a Whiting Award (2016) and a National Endowment for the Arts Literature Fellowship (2015), as well as grants and fellowships from Cave Canem, Creative Capital, New York Foundation for the Arts, and the U.S.-Japan Friendship Commission, among others.
Diggs received an A.A. from the Borough of Manhattan Community College, a B.S. from NYU Steinhardt School of Education, and an M.F.A. from California College of the Arts.