Laurie Spiegel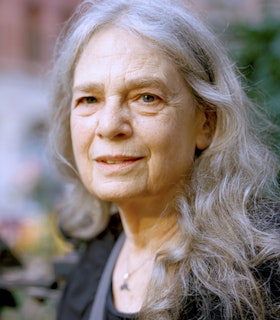 For many years I have made music using electronics and computers, providing the existence proof that they are capable of making real music, a contention met initially with great skepticism back then. No longer controversial, their use in music creation is by now quite fully established... But for a long time I have wanted to return to where I first started composing and to explore some of the other directions I left lying fallow while specializing my work around the introduction of new technologies. During the past year I have been able to take time to do that to a much larger degree than in previous recent years.
- Laurie Spiegel, December 12, 2018
Artist Statement
It's difficult to make a general statement about my creative work. Although I've been said to have a personal style I don't perceive one from within the creative process. Every experience of making a work feels different, unique. Some are attempts to externalize and share what takes form in my imagination. Some are inspired by or even in homage to the creations of others, sometimes a work begins to be molded into itself while I am simply playing around with the materials of music or sounds. Some works start with an idea, a logical process, an intuitive feeling, an emotion or several of these all at once. I use whatever technology is either at hand or that needs to be created if it doesn't already exist in order to be able to explore and realize an idea or work, or conversely, the technology itself, whether advanced computer systems or a humble guitar, sometimes suggests content and form to me as though it were a living collaborator.
The bottom line, whether music, drawing, video, photography or writing, may be that I have all my life found myself propelled by a sense of the intensity of life, a succession of moments, each strong and vivid to the point at which the urge to document or share becomes a creative energy. We are fortunate in our time to have so many media and tools for the creation of artistic works of all kinds, works of self-expression and the sharing of internal conscious experience. We are still each alone within ourselves but the arts, and for me especially music, provide bridges between and among us.
- December 2017
Biography
Composer Laurie Spiegel's music draws on her classical training, pre-classical lute, and folk guitar and banjo roots; however, she is also a computer programmer, software designer, visual and video artist, and a published theorist. She is known for her pioneering work with several early electronic and computer music systems, focusing largely on interactive software that uses algorithmic logic to supplement and extend human abilities, and on the aesthetics of musical structure and cognitive process.
During her grant year, Spiegel presented her first score for full orchestra since the 1980s for a BBC concert, which had its premiere at Royal Albert Hall in London, England, United Kingdom. Spiegel's music has been heard widely in festivals such as the Cabrillo Festival of Contemporary Music, Santa Cruz, CA; and the New York Philharmonic Horizons '84 Festival, New York; in concert at The Kitchen and The Museum of Modern Art in New York; in video and film scores for David Erlich, Tom DeWitt, Nam June Paik, and others; and with dance in the repertories of Alvin Ailey American Dance Theater, Elliot Feld Ballet, the Netherlands Dance Theater, and the Kathryn Posin Dance Company. She has been commissioned for chamber orchestra and other instrumental media by the American Dance Festival, the Mostly Modern Festival, and S.E.M. Ensemble.
Spiegel's visual works­—computer graphics, video, drawings, and photography—have been exhibited in the United States, Europe, and Japan. She has directed computer and electronic music studios and taught composition at Cooper Union and at New York University, where she founded its first computer music studio. Her realization of Johannes Kepler's Harmony of the Planets was sent into space as the opening cut of the Voyager Spacecraft's record Sounds of Earth (1977). Spiegel's recorded works have been available on 1750 Arch, Capriccio, Philo, Unseen Worlds, and other labels. Her computer software for music, such as Music Mouse—An Intelligent Instrument­ (1986), has been published for Amiga, Atari, and Macintosh computers.
Spiegel has received fellowships and grants from the New York State Council on the Arts, ASCAP, and the Experimental Television Lab at WNET, among others. She is a freelance composer for film, dance, and other media, as well as a writer, software developer, visual artist, and a consultant in computer music, audio software design, and in other areas of information technology. Spiegel's studies include an A.B. from Shimer College and an M.A. from Brooklyn College, and additional studies at Oxford and Juilliard.