Ligia Lewis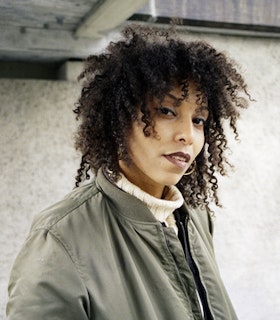 Beyond the material conditions that enabled me to pay more collaborators and to develop a new larger scale work, I have been able to put some money aside for myself to be better prepared for the precariousness of a dancer's/choreographer's life. Despite all of the rich artistic possibilities that the year provided, the shear knowing that a break could be had, made this award of particular personal significance. Psychologically softening the pressure to consistently be in production and/or presenting in order to make ends meet, allows me more artistic freedom in pursuing residencies, workshops and lectures for the upcoming year that otherwise would not have been afforded to me... your generous support will extend beyond this working year and spill into supporting very basic and mundane needs of staying injury free, curious, and available for new artistic impulses.
- Ligia Lewis, December 21, 2018
Artist Statement
With my choreography, I attempt to build a language that is both personal and abstract. Meticulously crafted forms of embodiment meet sonic and visual metaphors that give space for the emergent and the indeterminate while tending to the mundane. I am particularly drawn to how time unfolds in a performance, specifically the messy unraveling of the interpersonal in a saturated space that allows for difficult emotions to be staged. Trying to achieve an embodied dramaturgy in a field of play, I hope to allow for perceptions to shift from the familiar to the unfamiliar, stretching the capacities to care for and therefore give care to movements, speech, affects, thoughts, relations, utterances and the bodies that hold them. In doing so, I hope to make the stage a site to materialize the enigmatic, the poetic, and the dissonant.
- December 2017
Biography
Ligia Lewis is a dancer and choreographer whose work has been presented in multiple contexts including the theater, museums, and galleries. Engaging with affect, empathy, and the sensate, her choreography considers the social inscriptions of the body while provoking its nuances and potentiality. Alongside Lewis's choreographic practice, she collaborates with and performs for others.
Lewis's 2018 FCA grant supported the completion of two new works: so something happened get over it; no nothing happened get with it, as part of Jaou Tunis in Tunis, Tunisia; and Water Will (in melody), which premiered at Hebbel am Ufer, Berlin, Germany. Lewis's minor matter (2016), which premiered at Hebbel am Ufer, Berlin, Germany, is presented in red and gives life to a vibrant poetic and social space materialized through the dynamic interplay of light and sound meeting a rich physicality. Sorrow Swag (2014), which premiered at Human Resources Los Angeles and continues to be presented in Europe, gives form to the textures of grief and sadness, emerging in a saturated blue.
Lewis's other choreographies include Melancholy: A White Mellow Drama (2015), a comical yet pointed critique on the color white, which opened at Fahrenheit by FLAX, Los Angeles, and was also presented at the Do Disturb Festival at the Palais de Tokyo, Paris, France. The site-specific work $ (2012), situated in a limousine, was presented at X-Choreografen/Tanz im August, Berlin, Germany. Sensation 1 (2011), a silent wailing score amplified in total silence, was first presented at Tanz im August, Berlin, Germany, and later at Art Basel, Basel, Switzerland. As a dancer, Lewis has performed and toured extensively for artists including Ariel Efraim Ashbel, Mette Ingvartsen, and Eszter Salamon. She has collaborated with visual artist Wu Tsang, musical artist Twin Shadow, and with the DJ collective NON Worldwide.
Managed and produced by Hebbel am Ufer Berlin, Lewis is also the recipient of a residency from the Baryshnikov Arts Center (2018); a Factory Artist residency at tanzhaus nrw (2017-19); funding from the Berlin Senate Department for Culture and Europe (2017-18); a Bessie Award for Outstanding Production for minor matter (2017); and of a Prix Jardin d' Europe from ImPulsTanz for Sorrow Swag (2015). She received a B.F.A. in dance and choreography from Virginia Commonwealth University in 2005.