Liz Waldner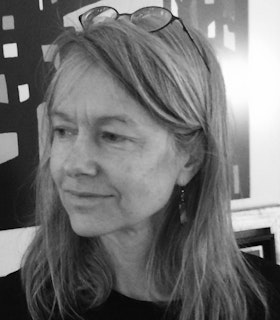 Artist Statement
Making poems offers respite, solace, a dwelling in that "exactest element for us, in which we pronounce joy as a word of our own—" in which pleasure, play, mystery, and surprise are companions. For me, the experience of 'with-ness,' the encounter with the living power in words, a sense of being met, of becoming aligned with what is right for me, is a gift—I both receive it and seek to pass it on by making.
- December 2016
Biography
Liz Waldner is a poet whose work experiments with the formal properties of poetry, working with the musics in and the roots of language in order to create spirited compositions. She is the author of ten books of poetry as well as several chapbooks, and is featured in a number of poetry periodicals.
Her published works include Homing Devices (O Books, 1998); A Point Is That Which Has No Part (University of Iowa, 2000) which received the Iowa Poetry Prize and the Academy of American Poets Laughlin Prize; Self and Simulacra (Alice James, 2001), which was awarded the Beatrice Hawley prize; Dark Would (the missing person) (University of Georgia, 2002), which was a University of Georgia Contemporary Poetry Series winner; Etym(bi)ology (Omnidawn, 2002); Saving The Appearances (Ahsahta, 2004); Trust (Cleveland State, 2009), which received the Cleveland State University Poetry Center Prize; Her Faithfulness (Miami University, 2016); and Little House Big House (Now How I Am An American) (Noemi, 2016). Waldner has also worked in collaboration with a range of artists, including composer Yuki Morimoto, the band racingpaperplanes, composer and flautist Carolyn Steinberg, and printmaker Derli Romero.
Waldner is the recipient of a Regents Fellowship from the Communications Department of the University of California, San Diego (1990), and has been awarded residencies at the Millay Colony for the Arts (1995), Virginia Center for the Creative Arts (1997), Montalvo Arts Center (1997), Hedgebrook (1997), and Centrum (1998). She has received many grants and awards, including a grant from the Barbara Deming Money for Women Foundation (1994); an Isabella Gardener Fellowship from the MacDowel Colony (1994-95); a Tread of Angels Fellowship from the Djerassi Foundation (1996); and was the winner of the Poetry Society of America's Robert H. Winner Memorial Award (1999). Waldner received her M.F.A. from the Iowa Writers' Workshop, and has taught at Bard College, Tufts University, the University of Iowa, and the College of Wooster.