luciana achugar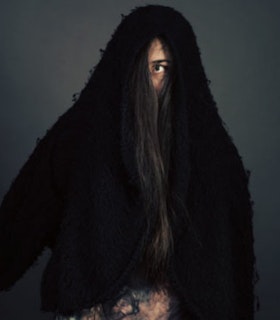 I am pleased that the most important result of the Foundation for Contemporary Arts grant was the making of a really important piece in the context of my body of work, a fruitful creative process from which I learned a lot, and that inspired and propelled me towards my future project. Access to these unrestricted funds allowed me to keep the momentum going in such a key moment of my career, especially in a moment when being new to parenthood could have slowed me down significantly.
- luciana achugar, January 2011
Artist Statement
I make dances with a rage and desire called utopia.
Within my process there lies the fantasy of erasing hierarchical power structures to allow the collective experience of the group to become the content of the work. For five years, from piece to piece, we wore the same navy blue workers' uniforms; affirming the continuity of the identity of the performers and building a sense of "history" within the body of work. We were the dancer as blue collar worker, performing the exhausting ritual of labor, the labor of the body.
I make work mostly in theater venues, but also in public spaces. I make work as a practice of growing, as one would grow a plant. A practice of growing, growing a body of work, growing a collective body with all the dancers, collaborators and participants as audience, and growing myself a new body; a utopian body; a sensational body, a connected body; an anarchic body, that is full/filled with pleasure; with love and with some kind of magic, mystery …………………………………with a brain that melted down to the skin, the flesh, the bones, the guts, and the crotch... and with eyes that see without naming and see without knowing.
My work actively addresses the audience's gaze, revealing their role as voyeur and bringing them into the "narrative" as participating characters. There is an almost utopian desire to be transparent, to share and to be closer to or "touch" the audience.
- December 2014
Biography
luciana achugar is a choreographer who began making work collaboratively with Levi Gonzalez in 1999, and in 2002 started working independently. Her work is concerned with the post-colonial world, searching for an undoing of current power structures from the inside out.
achugar has created seven independent works including FCA-supported PURO DESEO (2010), which premiered at The Kitchen. Her work has been presented in New York at Movement Research's MELT Festival, The Latino American Dance: Not Festival Project, Klaus von Nichtssagend Gallery, La MaMa E.T.C., Abrons Arts Center, Danspace Project, and Dance Theater Workshop.
Her work has also been presented at the Walker Art Center, Minneapolis; the Green Studios, Massachusetts; in Uruguay at the Festival Iberoamericano de Danza; the Centro Cultural de España, and the Teatro Solis. As a performer in her early career, achugar worked with choreographers including Jeremy Nelson, Wil Swanson, Maria Hassabi, chameckilerner, and John Jasperse.
Following her FCA support, achugar received a John Simon Guggenheim Memorial Foundation Fellowship (2013), and a Creative Capital Grant (2013). Prior to her 2010 Grants to Artists, achugar received a New York Dance and Performance "Bessie" Award (2007), a BAX10 Arts and Artists in Progress Award (2008), and a President's Liberty Award from the Lower Manhattan Cultural Council (2009).
achugar received a B.F.A. from the California Institute of the Arts in 1995.