Luke Fowler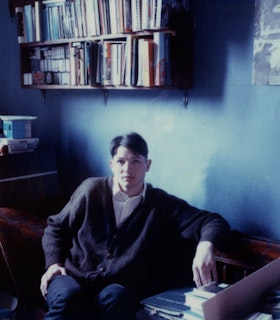 2010 was made considerably simpler, financially, due to the tremendously generous income provided by the [FCA] grant... The year began with a trip to Köln to work on a design for a garment inspired by the music of Karl Heinz Stockhausen... Spring saw screenings and installations across Europe and America... I spent [residencies] at Bard College and Cove Park in Argyll, Scotland... The winter saw the inception of one project and the production of another...
- Luke Fowler, January 2011
Artist Statement
My multi-room 16mm film installations explore the historical complexities of location, sound, and film, questioning if it is possible to create a meaningful dialogue between looking and listening. My past work has often explored the limits of documentary filmmaking, combining new and archival footage, interviews, and photography, yet paying close attention to sound and its social significance.
I am currently working on a film series entitled A Grammar For Listening, made in collaboration with several acclaimed international sound artists. I am a member of the groups Rude Pravo and Lied Music, where I investigate the use of analogue electronics and obsolete technologies, often in pursuit of the limits of what could constitute Songs. I run the Glasgow based record label Shadazz.
- December 2009
Biography
Luke Fowler is a filmmaker and composer who creates biographical films made up of cinematic collages of his own cinematography, interviews, archival footage, photography, and sound. He is often connected with British Free Cinema, an aesthetic that emerged in the 1950s to explore contemporary social issues.
Fowler's films include Pilgrimage from Scattered Points (2006), about the avant-garde composer Cornelius Cardew and All Divided Selves (2011), an exploration of the ideas and legacy of Scottish psychiatrist Ronald David Laing. With the support of his 2010 Grants to Artists, Fowler created Ridges on the Horizontal Plane, a collaboration with Toshiya Tsunoda that was screened at The Museum of Modern Art in 2013, and The Poor Stockinger, the Luddite Cropper and the Deluded Followers of Joanna Southcott (2012), which focuses on the work of the Marxist historian Edward Palmer Thompson. Fowler frequently collaborates with musician Richard Youngs and sound artists Eric La Casa and Lee Patterson.
Fowler's work has been the subject of solo exhibitions and screenings at The Modern Institute, Glasgow (2006, 2009, 2011); Kunsthalle Zurich (2008); Serpentine Gallery, London (2009); Bard College Center for Curatorial Studies (2011); The Hepworth Wakefield (2012); Film Museum, Vienna (2012); Institute for Contemporary Arts, London (2012); the Centre for Contemporary Arts, Glasgow (2012, 2014); Inverleith House, Edinburgh (2012, 2014); Hyde Park Picture House, Leeds (2014); and Tate Modern, London (2014).
Following his 2010 FCA grant, Fowler was shortlisted for The Turner Prize 2012, awarded by Tate Britain. Prior to his 2010 Grants to Artists award, Fowler received the inaugural Derek Jarman Award (2008), a Contemporary Art Society Annual Award (2010), and a Paul Hamlyn Award (2010). He has completed residencies at the Institute of Contemporary Arts in London, Dartmouth College, New Hampshire; and the Nordic Institute for Contemporary Art, Helsinki.
Fowler received a B.A. from Duncan of Jordanstone College of Art in Dundee, Scotland in 2000.