Luke Stewart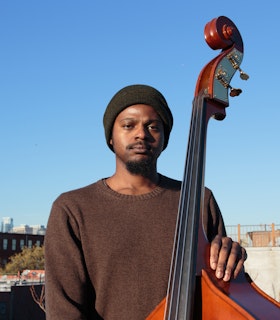 Artist Statement
Improvisation is the process by which composition, performance, and artistic application are fueled. As an artistic approach, it is unique in its offering of new possibilities in sound, music, and ways of being. It is a vast network of communities with multiple powerful historical legacies existing adjacently to every form of music. My work seeks to harness and explore this approach, allowing it to free me from any artistic restriction, allowing me to thus choose how I wish to apply and develop creative skill. Improvisation has the power to change the world. Through my developing body of work, whether traditionally "composed" or unconventionally devised, I utilize Improvisation to inspire societal and artistic change through music. Along my musical journey is a strong sense of looking back through history to explore themes from which to draw inspiration, while seeking to imagine and implement a better world. From "Liberation Oriented Free Jazz Band" Irreversible Entanglements to Silt Trio to my work as a collaborator, each share the common thread of historical exploration through the lens of progressive artistry. Radical thought and action deserve an equally radical creative output. The sound should match the message, or at least try.
- December 2022
Biography
Luke Stewart is a musician, performer, improviser-composer, organizer, and writer-researcher whose work represents a deep reverence for the history and tradition of Creative Music: a tradition which encompasses the diverse styles of expression within the body of Black Music in the United States, Africa, and throughout the world. Stewart's regular ensembles include Irreversible Entanglements, SILT Trio, Exposure Quintet, and the experimental rock duo Blacks' Myths; he also performs regularly in numerous collaborations.
In his Works for Upright Bass and Amplifier and Works for Upright Bass and Amplifier Vol 1 and Vol 2 (Astral Spirits, 2018, 2021, 2022), Stewart explores real-time harmonic and melodic possibilities, as well as the intersection of the acoustic and the electronic—the relationship between wood and electricity. He uses the resonant qualities of the bass and one or more amplifiers to create reverberations from the plucking of strings, his bow, and moving the instrument itself back and forth in space.
Over the years, Stewart has performed at Arts for Art's Vision Festival, New York, NY; Winter Jazzfest, New York, NY; The Kennedy Center, Washington, D.C; Rhizome DC, Washington, D.C.; The Metropolitan Museum of Art, New York, NY; Big Ears Festival, Knoxville, TN; the BIMHUIS, Amsterdam, Netherlands; and Roskilde Festival, Roskilde, Denmark, among many other venues and festivals in the United States and abroad. As a scholar, Stewart has also performed and lectured at Harvard University, Cambridge, MA; Johns Hopkins University, Baltimore, MD; Medgar Evers College, Brooklyn, NY; George Mason University, Fairfax, VA; Wayne State University, Detroit, MI; University of Montana, Missoula, MT; New Mexico State University, Las Cruces, NM; and the University of South Carolina, Columbia, SC.
Stewart has had residencies at Roulette Intermedium, Brooklyn, NY; The Hermitage Artist Retreat, Englewood, FL; and Pioneer Works, Brooklyn, NY. He received a Foundation for Contemporary Arts Emergency Grant (2022) to support his work with KO Arts in New Orleans. Stewart was noted in DownBeat as one of twenty-five performers to "shape jazz for decades" (2020).
He holds a B.A. from American University and an M.A. from The New School, where he is also an adjunct professor in the College of Performing Arts. Stewart is a co-founder and artistic director of CapitalBop, a Washington, D.C.-based jazz nonprofit.