Mac Wellman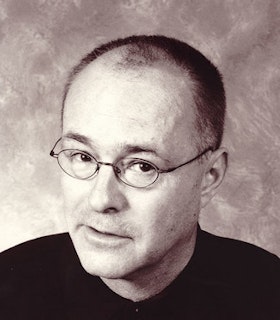 I have used [part of] my grant for a workshop of two plays: October Surprise and School for Devils. The grant also has enabled me to do work on a children's play (for a chorus of 1001) entitled Invention of Tragedy... I am extremely grateful for the award and I feel deeply honored.
- Mac Wellman, February 18, 2005
Artist Statement
I have always been intrigued by the counterpoint between physical gesture and the music of language. Accordingly, I am engaged in an ongoing examination of how these inform, complement, contrast, and even contradict each other; and so enable some kind of mutual illumination. An illumination of what it is to be alive. There are many people, especially in the theater of what I call the "already known;" who would will such complexity out of existence, but this cannot be done. Feet in clay, we would sing with angels.
- 2005
Biography
Mac Wellman is an experimental playwright, author, and poet. His work is known for an exacting attention to language and he often creates site-specific, politically pointed plays.
Prior to receiving his 2003 Grants to Artists award, Wellman authored many plays, including Starluster (1979), The Self-Begotten (1982), The Bad Infinity (1985), Harm's Way (1985), The Nain Rouge (1986), Cleveland (1986), Cellophane (1988), Bad enny (1989), Crowbar (1990), Sincerity Forever (1990), 7 Blowjobs (1991), The Land of Fog and Whistles (1993), The Sandalwood Box (1994), I Don't Know Who He Was and I Don't Know What He Said (1998), Jennie Richie (2000), Bitter Bierce (2002), and the opera The Difficulty of Crossing a Field (2002) with composer David Lang.
With support from his 2003 FCPA grant, Wellman worked on October Surprise (2004), School for Devils (2004), and The Invention of Tragedy (2005). His subsequent plays include 1965 UU (2008) for performer Paul Lazar, and directed by Stephen Mellor at the Chocolate Factory; 3 2's; or AFAR (2011) at Dixon Place and the Central Academy of Drama in Beijing; the monologues Horrocks (and Toutatis Too) and Woo World Wu (2013), performed at Emerson College with Erin Mallon and Tim Sirgusa; and Muazzez (2014), a monologue performed by Steve Mellor at the Chocolate Factory as part of Performance Space 122's COIL festival.
In 2006, Wellman's third novel, Q's Q, was published by Green Integer. In 2008, Trip Street Press published a volume of Wellman's stories, A Chronicle of the Madness of Small Worlds, and in the same year his collection of plays The Difficulty of Crossing a Field was released by Minnesota Press. His books of poetry include Miniature (2002), Strange Elegies (2006), Left Glove (2011), and Split the Stick (2012).
After receiving his 2003 Grants to Artists Award, Wellman was a playwright-in-residence at Pratt Institute (2004), Yaddo (2004, 2005, 2007, 2008, 2010), and The MacDowell Colony (2004, 2005, 2006, 2010). Also, his novel Linda Perdido won the Fiction Collective Two (Fc2) Catherine Doctorow Innovative Fiction Prize (2011). Prior to his 2003 FCPA grant, Wellman has received numerous honors, including three New York Foundation for the Arts Fellowships in Playwriting (1986, 1990, 1998), a McKnight Foundation Fellowship (1989), a Rockefeller Foundation Fellowship (1989), a John Simon Guggenheim Memorial Foundation Fellowship (1990), and National Endowment for the Arts Grants (1990, 1995). He received Obie awards for Best New American Play (for Bad Penny,Crowbar, Terminal Hip) (1990) and Sincerity Forever (1991), and an Obie for Lifetime Achievement (2003).
Wellman graduated with a B.A. in International Relations from American University and an M.A. in English from the University of Wisconsin, Madison. He is the Donald I. Fine Distinguished Professor of Play Writing at Brooklyn College. Wellman has also taught playwriting at The Yale School of Drama, Princeton University, New York University, Rhode Island School of Design, Pratt Institute, Brown University, University of Texas at Austin, and Mount Holyoke College. He is a co-founder of The Flea Theater and has served as editor of Breathing Space.