Marc Mellits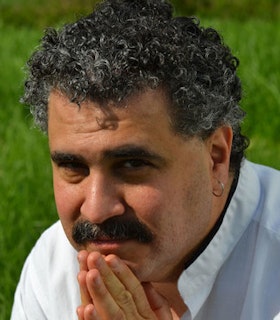 The grant I received could not have come at a better time. This grant enabled me to concentrate my time and efforts on finishing a CD of my own music (Mellits Consort: Paranoid Cheese), as well as afford me more time to devote to composing.
- Marc Mellits, March 27, 2006
Artist Statement
Writing music is the ultimate joy. I love listening to music, but I love writing it even more. It is a game of pitches, rhythm, sound, and silence; finding the hidden music beneath the blank music paper, and then playing with it, shaping it, honing it, so as to communicate directly with the listener. I want my audience to be immersed in the music, to have communication on a personal level. I love to fit the instruments together in unique ways, to have them rely on each other. Often in my music, the individual instrumental parts themselves only paint a small portion of the picture. It is only the combination of instruments that reveals the overall musical architecture. My goal is to explore musical material and musical processes that embrace the idea of each voice working together to create a whole far greater than just the sum of its parts.
- 2005
Biography
Marc Mellits is a composer who creates short visceral works often comprised of contrasting sections. He is influenced by minimalist and rock music and often composes for amplified instruments. Mellits also directs and plays keyboards in his own ensemble, the Mellits Consort.
Mellits' 2004 Grants to Artists award supported his album Mellits Consort: Paranoid Cheese (2007). Since receiving his 2004 FCA grant, numerous recordings of Mellits' music have been released, including Dominic Frasca: Deviations (2005), Tight Sweater: Real Quiet plays the music of Marc Mellits (2006), Society for New Music: Serendipity (2009), and Strike: Convergence (2010). His music has been played by ensembles globally and he has received commissions from the Orpheus Chamber Orchestra, Bang on a Can All-Stars, the Society for New Music, Real Quiet, Nexus Percussion, Canadian Brass, Talujon, Third Coast Percussion, Percussions Claviers de Lyon, Four-In-Correspondence, Sergio and Odair Assad, Eliot Fisk, Andrew Russo, Debussy Quartet, New Music Detroit, Kronos Quartet, and the Meridian Arts Ensemble.
Additionally, Mellits' music has been performed, toured, and/or recorded by members of the Detroit Symphony, Atlanta Symphony, Boston Symphony, Minneapolis Symphony, Brooklyn Philharmonic, Chamber Music Society of Lincoln Center, New Millenium Ensemble, Da Capo Chamber Players, and the American Modern Ensemble, among others. Mellits has also composed film scores, including the PBS miniseries "Beyond The Light Switch," which won a 2012 Dupont-Columbia award.
Mellits earned a B.M. at the Eastman School of Music in 1988, an M.M. at Yale School of Music in 1991, a D.M.A. at Cornell University in 1996, and studied Tanglewood Music Center. He is on the music faculty of the University of Illinois at Chicago where he teaches Composition and Theory. Mellits is a founding member of Common Sense Composers' Collective and is the artistic director and keyboard player for Mellits Consort.