Marguerite Angelica Monique Hemmings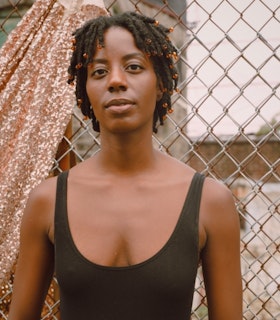 Artist Statement
My work is about liberatory creative practice: art that liberates and feels liberating to create. My style is experimental. I study movements that are led by the youth, that develop outside in dancehalls, in ritual, in social settings, in response to social conditions. There, I find the pulse that drives social innovation, healing, and transformation. My work honors the reparation, livelihood, and aliveness of the African Diaspora.
- December 2021
Biography
Marguerite Angelica Monique Hemmings is a Jamaican-born, New Jersey-raised performance artist and educator. Their practice centers itself in liberation, developing the body and its unique way of moving, healing, and connecting to the unseen.
Hemmings works inside of a self- and spirit-directed practice called "we free." we free engages the millennial and Generation Z approach to freedom through music, social dance, and social media. Like all of Hemmings's work, we free is concentrated on the livelihood and reparation of the African continent and diaspora. It is a social experiment, a non-performance, a call to action, an ode, and, in moments, a critique of the endeavors of present and emerging generations to be free.
Antidote (2021)—their collaboration with new media artist LaJuné McMillian—uses motion capture software to explore spirituality, embodiment, and the restorative potential of movement in virtual space. Following the dually digital and physical basis of the performance, Antidote was presented in both video and live formats, the latter in collaboration with young artists from South Brooklyn Community High School in Red Hook and University Neighborhood High School on the Lower East Side. With support from a Foundation for Contemporary Arts Emergency Grant, the work premiered at Abrons Art Center, New York, NY in 2021.
Hemmings has performed at University of the Arts, Philadelphia, PA (2020); Baryshnikov Arts Center, New York, NY (2018); Gibney Agnes Varis Performing Arts Center, New York, NY (2017); and Danspace Project, New York, NY (2016).
Hemmings is the recipient of two Foundation for Contemporary Arts Emergency Grants (2021, 2017); a Dancing While Black Fellowship from Angela's Pulse Performance Projects (2015-2016); a Travel and Study Grant from the Jerome Foundation (2015); a Community Arts Grant from the Brooklyn Arts Council (2014); and a Fund for New Work Award from Harlem Stage (2011). They have participated in fellowships through Arizona State University's Projecting All Voices (2019) and Urban Bush Women's Choreographic Center Initiative (2017-2019). They received a New York Dance and Performance "Bessie" Award for Outstanding Performer in Skeleton Architecture (2017).
Hemmings lectures at University of the Arts. They hold a B.A. in Education and Urban Studies from Columbia University.