Maria Hassabi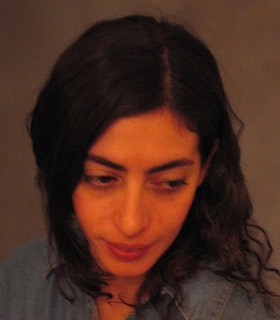 This year, your support had a profound effect on my ability to create work, strengthen the infrastructure of my organization, and cultivate opportunities for my work nationally and internationally... It is a unique program, and represents the very best in arts funding, because it truly allows artists the freedom to grow while continuing to do what we do best: create.
- Maria Hassabi, January 14, 2009
Artist Statement
Over the years, I have developed a distinct choreographic practice centered on the relation of the body to the image—defined by sculptural physicality, extended duration, and aesthetic precision. My work is a practice in abstraction, drawing its strength from the tension between the human subject and the artistic object, the dancer as a performer and as a physical entity. Exercised through the reduction of movement in relation to time, my use of abstraction develops a perception of the body as a fragmented form, and ultimately, as an affecting force. With its distinct slowness and gradual progression, my choreography enables "a waiting," where form is captured and can be contemplated. As images shift, the relation between space, duration, and movement is intensely magnified, and the viewer is given the chance to enter another realm of consciousness and awareness.
- December 2014
Biography
Maria Hassabi is a choreographer, director, and performance artist.
Her works are presented in theaters, museums, galleries, and public spaces worldwide. Throughout her career, she has had ongoing collaborations with artists from various disciplines. Prior to receiving her 2009 Grants to Artists award, she created Dead is Dead (2004), Lights (2004), Still Smoking (2006), and Gloria (2007). Hassabi's 2009 FCA grant supported Solo (2009) and SoloShow (2009), two evening-length solos that relate to each other and extend her interest in the female body embedded within art history, pop culture, and daily life. Her subsequent evening-length works include Robert and Maria (2010), Show (2011), Counter-Relief (2013), PREMIERE (2013), and the eight-hour-long live installation Intermission (2013). She has also created several short-form pieces and art installations including Chandeliers (2012), the short film The Ladies (2012), and Plastic (2015).
Since receiving her 2009 Grants to Artists award, Hassabi was awarded the John Simon Guggenheim Memorial Foundation Fellowship (2011) and The President's Award for Performing Arts from the Lower Manhattan Cultural Council (2012); grants from The MAP Fund (2011, 2013), the Manhattan Community Arts Fund (2011, 2013), the Jerome Foundation (2011, 2013, 2014), Creative Capital (2013), Lower Manhattan Cultural Council's Extended Life Program (2013), and The Mertz Gilmore Foundation (2013). Hassabi represented The Cyprus Republic as part of the Cyprus and Lithuanian Pavilion at the 55th Venice Biennale (2013). Prior to receiving her 2009 FCA grant, her work been supported by the Foundation 2021 (2006, 2007), The Brown Foundation, Inc. of Houston (2006, 2009), the Manhattan Community Arts Fund, supported by the New York City Department of Cultural Affairs and administered by LMCC (2007, 2009), and the National Performance Network Creation Fund (2009).
In 1994, Hassabi received a B.F.A. in Performance and Choreography from California Institute of the Arts. She studied at Merce Cunningham Studios between 1994 and 1996, and she studied release techniques and the Alexander Technique in New York between 1994 and 2003. She is a certified teacher of the Pilates Method of Body Conditioning and continues to teach Pilates, choreography, and dance in New York, throughout the United States, and internationally.