Mariana Valencia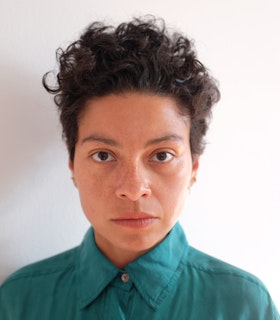 I chose to spend my funds on pending fiduciary debts, debts to my exhausted body and to my artistic work because these are easily accumulated deficits in my field that are difficult to become untethered from. With the funds I was able to finish and develop two evening length performances and pay off the last sum of my undergraduate student loans that I had been adding up over the last 12 years. My home office is now equipped with a new computer and hard drive that will aid me in archiving my work and support me with the required and constant call for applications and research that are necessary on my path as a choreographer.
- Mariana Valencia, December 26, 2018
Artist Statement
I make performances that encompass ethnography, memoir, and observations of my cross-cultural identifiers. Comprised of dance, language, and time, my performances inspire algorithmic imagery where I intersect urbanity with suburbia, the countryside, and the imaginary plane. Cadence is the base relation in my work where humor confronts sadness, gravity weighs levity, timing against improvisation. Factual, humorous, and grave observations depict my herstorical frame from where I'm in search of the spiritual, in observation of the physical and in awe of the artificial. My research has looked to Cumbia, AIDS, New York, Los Angeles, Mexico, Detroit, vampires, and Yugoslavia as sounding boards. As a choreographer, performer, and writer, I generate cartographic visions of performance.
- December 2017
Biography
Mariana Valencia is a dance artist whose choreography navigates across media, space, and cultural histories. She makes performances that incorporate ethnographic practices, are deeply rooted in embodied research, and speak to the power of choreography in addressing our understanding of how cultural narratives are built and upended.
ALBUM (2017), a solo performance that is similar to a photo and song archive and functioned as an altar for Valencia's body, premiered at Brooklyn Arts Exchange, Brooklyn (2017), and was included in the American Realness festival, New York (2018). Valencia's Grants to Artists award supported the 2018 tour of ALBUM to the Hirshhorn, Washington, D.C., the Time-Based Art Festival at the Portland Institute of Contemporary Art, Portland, OR, and to Fierce Festival in Birmingham, England, United Kingdom (2018). In Yugoslavia (2017), which premiered at Danspace Project, New York, Valencia explored themes of transmission, translation, relation, proximity, and blend through differently angled anecdotal, historical, whimsical, and observational texts. Originators (2016) recounts Valencia's work's origin story and her identity as a queer Latina woman, and was commissioned by the ISSUE Project Room Artist in Residence program and premiered at Abrons Arts Center, New York.
Valencia's works have been presented in New York at AUNTS, Center for Performance Research, Danspace Project, The Kitchen, The New Museum, Roulette, Ugly Duckling Presse, Wendy's Subway in partnership with the Brooklyn Academy of Music Fischer Theater, and Women & Performance. Internationally, her work has been presented at Perform(a) Festival in Macedonia and at the Kodenz Festival in Serbia (2016). As a performer, Valencia has worked with artists AK Burns, Kate Brandt, Kim Brandt, Jules Gimbrone, MPA, Elizabeth Orr, robbinschilds, and Em Rooney. Her projects in costume design include works by Vanessa Anspaugh, Lauren Bakst, Daria Fain, Juliana May, Jen Rosenblit, Marya Wethers, and Geo Wyeth. As an ethnographer, Valencia has researched the Dugu dances of the Garifuna in Barranco, Belize (2005) and the Sonidero street dance traditions of Mexico City (2015).
Valencia was the cover artist of Girls Like Us Magazine, Issue #9 (2017); co-editor of Movement Research Critical Correspondence (2016-17); creator of the Rhinoceros Event zine (2012-14); and was a founding member of the No Total reading group (2012-14). Valencia has received grants from the Mertz Gilmore Foundation (2017); The Jerome Travel and Study Grant Program (2015-16); and The Yellow House Fund of the Tides Foundation (2010-13). She has held residencies in New York at Brooklyn Arts Exchange (2016-18); Center for Performance Research (2014-16); ISSUE Project Room (2015); New York Live Arts (2013-14); Chez Bushwick (2013); and in Los Angeles at Pieter Performance Space and Show Box L.A. (2014). Valencia holds a B.A. in dance and ethnography from Hampshire College.